Paper Gloss Meter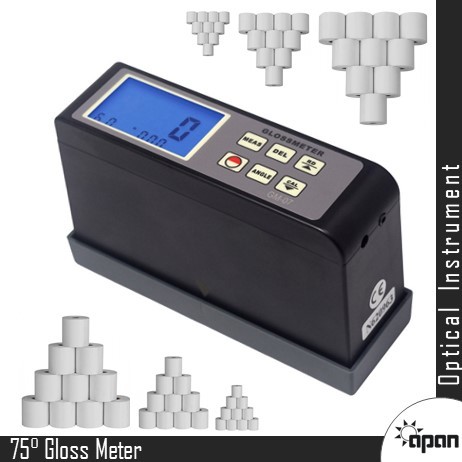 Paper Gloss Meter
Product Description
As an Authorized dealer we are engaged in providing the broad assortment of wide gamut of Colour Appearance test and measurement instruments.

Gloss Meter have different kinds of measurement angles. Generally, 20 used for High Gloss Materials, 60 used for Medium Gloss Materials, 85 used for Low Gloss Materials. Two additional angles are used for other materials. An angle of 45 is specified for the measurement of ceramics, films, textiles and anodised aluminium, whilst 75 is specified for paper and printed materials.

In accordance with international standard ASTMD523, ASTMD1455, ASTMC346, ASTMC584, ASTMD2457, DIN ENISO2813, DIN67530, ENISO7668, JISZ8741, MFT30064, TAPPIT480, GB9754, GB/T13891, GB7706 and GB8807. Its technical parameters conform with JJG696-2002.
Accurate measurement, good repetitiveness.
Automatic calibration. Small in size, easy to carry.
Intelligent design, rapid measurement.
Able to store 254 groups of measurements.
Uses USB, Bluetooth data output.
Built-in lithium ion rechargeable battery.
Backlight display, suitable for low light environment.

The 75 degree glossmeter is used primarily for the paper and vinyl producing industries.
For the paper industry several standards for gloss measurement exist, the most common ones are issued by the German DIN (Deutsches Institut Normung) and the American TAPPI (Technical Association of the Pulp and Paper Industry).
The specular gloss of paper and paperboard at 75 degrees (15 from the plane of paper). This method is suitable for low to moderate-gloss coated and uncoated papers as well as for most ink films on paper or paperboard. The standard describes the technical requirements for a corresponding gloss meter.
Display

4 Digits BacklitLCD

Measuring Angle

75

Range

0.1 ~ 200 Gloss Units

Gloss Units

GU

Accuracy

1.0 GU

Resolution

0.1

Repeatability

0.5 GU

Measuring Area

7 x 14 mm (Ellipse

Data Memorized

254 Groups

Operating Conditions

Temp0 ~ 40C

Humidity< 85% RH

Power Supply

3.7 V Lithium Ion Rechargeable Battery

Dimensions

140 x 45 x 75 mm

Weight

305 gIncluding Batteries

Standard Accessories

Main Unit

Holder with Calibration Standard

AC Adapter

Optical Cleaning Cloth

Carrying Case

Operation Manual

Optional Accessories

USB Data Cable with Software

Bluetooth Data Adapter with Software
ASTM D1223 1998 :Test method for specular gloss of paper and paperboard at 75.
TAPPI T480 OM-90 1990 (USA) :Specular gloss of paper and paperboard at 75
JIS - Z8142 1993 (Japan) :Testing method for 75 specular gloss
Contact Us
301, Pacific Plaza, VIP Road, Kareli Bagh, Vadodara, Gujarat, 390018, India
Phone :09624419419