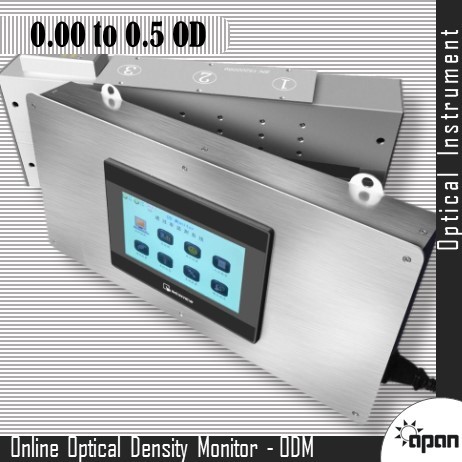 Online Optical Density Monitor
Product Description
Online Optical Density Monitoris a non-contact online thickness tester for coating aluminized film, use the principle of optical transmittance to monitor the process of vacuum coating machine and the production line of glass, has two kinds of methods to display: transmittance and optical density.
The material of transmittance (optical density) and a certain proportion relationship with material of coating thickness. So by monitoring materials of optical transmittance (optical density) to achieve the uniformity of monitoring materials, the purpose of the coating thickness. As long as it is light through the material, can be monitored by monitoring the light transmittance product quality. Such as winding vacuum coating, coating, glass/film production line and so on.
System is divided into 3 parts:
Detection systems : Includes the source, receiver, controller and aluminum bracket;
Human-computer interaction devices : 7 inch LCD MMI, display the transmittance and optical density data of every test points.
Computer real-time monitoring system(Optional) : Data record, analysis, reporting, and other functions.
Due to the measured sample of this customer is more special, the card slot of our conventional glass transmittance on-line monitoring device is 20mm wide, can not meet customer needs. So we customized a flexible program, the test points, controllers and human-machine display interface will be provided by our company to test , collect, output and display dates. As for the bracket part,it will be customized according to the customer's requirements. For this situation, the users will take the installation problem into account because my company doesn't provide the whole set of glass transmittance on-line monitoring device, , so I would like to introduce some details that we have considered for our customers.
This instrument provides dual RS485 communication interface, the standard MODBUS communication protocol, convenient for communications among LC, single-chip computer, MMI, kingview and computer. Coating machine can read directly optical density data of the equipment to realize the automatic control (closed-loop control).
Parameter:
Wavelength: according to the customer's need to choose, there are following option
Infrared : 850nm(the default option, strong anti-interference ability), Visible light : 380nm-760nm(white light), Green light : 530nm
Accuracy : ±1%
Resolution : 0.005%
Density measuring range : 0.00 -5.00 OD
Density resolution : 0.01 for 0.00 - 3.00 OD, 0.05 for 3.00 - 5.00 OD
The maximum measured points : 36
Distance between adjacent probe head:≥70mm
Distance between the sending and receiving probe: 20mm
Temperature range:-20°C +70°C
Data refresh cycle:300ms
Size:100mm*230mm(W*H) Length according to customer requirements
The number of flange electrode: 6(Not deserve a computer monitor) , 9(Deserve a computer monitor)
Power supply:220V AC/50Hz
Communication:dual RS485
Contact Us
301, Pacific Plaza, VIP Road, Kareli Bagh, Vadodara, Gujarat, 390018, India
Phone :09624419419