Wind Speed Sensor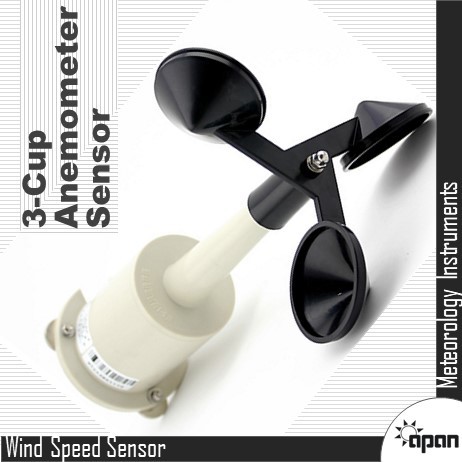 Wind Speed Sensor
Product Description
As an Authorized dealer we are engaged in providing the broad assortment of meteorological laboratory instruments and sensors.
Wind speed sensor (0.8 - 60 m/s) consists of wind cup and sensor .The wind cup is made of high weathering resistance and high strength engineering plastics, and the sensor uses engineering plastic forming ABS shell, the upper and lower shell is sealed by O-rings rubber. The Internal circuit all pass spraying has adopted three lacquer processing. The wind speed sensor has a very good resistance to the adaptability of the bad environment.
Application
Working aloft testing and control
Engineering machine testing and control
Weather station and environment protection testing and control
Port and wharf environment testing and control
Other industrial automation about wind speed and direction testing and control
Options
TTL impulse signal
4-20mA signal
0-5V signal
RS485 signal
Calibration (TTL signal)
wind= f*x1*0.437+6
f>0 wind= f*x1*0.437+6
f=0 wind= 0
wind: wind speed m/s
f: frequency the number of pulses per second
x1: coefficient adjustable(normal X1=1)
You can adjust according to actual situation.
Cable length : 10meter standard scop of supply
Working power : DC 12V, it can adjust by your requirement.
Installation method : Fixed by strong magnetic or Fixed by flange and screws.
Output signal : 4 types as above for choosing and can designed by your requirement.
Does it have control signal : Yes, it has. It outputs control relay signal.
The material of WFS wind speed sensor : ABS engineer plastic
Contact Us
301, Pacific Plaza, VIP Road, Kareli Bagh, Vadodara, Gujarat, 390018, India
Phone :09624419419