Whirling Hygrometer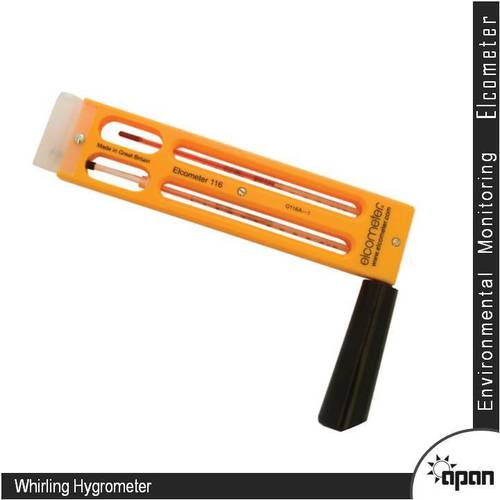 Whirling Hygrometer
Product Description
By utilizing sophisticated production methods, we are providing the finest quality Whirling Hygrometer. This is ideal for measuring the moisture content in the environment. It is manufactured in tune with set industry standards by utilizing the best grade materials under the observation of our vendors. Further, our quality inspectors examine this Whirling Hygrometer on well-defined parameters to dispatch a quality assured range at users end.
Features:
High in efficiency

Accuracy in result

Unmatched performance
The whirling hygrometer consists of two thermometers mounted on the same frame that can be whirled in the air by hand. The bulb of one thermometer is covered with a tight-fitting muslin sack and wetted with water. This thermometer is known as the wet-bulb thermometer. The other is the dry-bulb thermometer. The psychrometer is whirled to force air past the bulbs. The dry bulb indicates the temperature of the air. The wet bulb helps determine the relative humidity.
In air that has less than 100 per cent relative humidity, the wet bulb will record a lower temperature than the dry bulb. This difference in temperature is known as wet-bulb depression. A special chart is used to convert the wet-bulb depression to relative humidity or the relative humidity can be determined by correlating the readings with those on a simple slide rule, which is supplied with each instrument.
A guide for Relative Humidity (RH) determination is supplied with each instrument and the dewpoint can accurately be calculated using the Elcometer 114 Dewpoint Calculator.
TECHNICAL SPECIFICATION :
Dimensions: 230 x 80 x 28mm
Range: -5C to 50C
Weight: 300g (0.6lb)
| | | |
| --- | --- | --- |
| | Accuracy | Range |
| %RH | 2% | 1 - 99% |
| RH Dewpoint | 2C | 0 - 20C |
| Dewpoint | 6C | >20C |