Webster Hardness Tester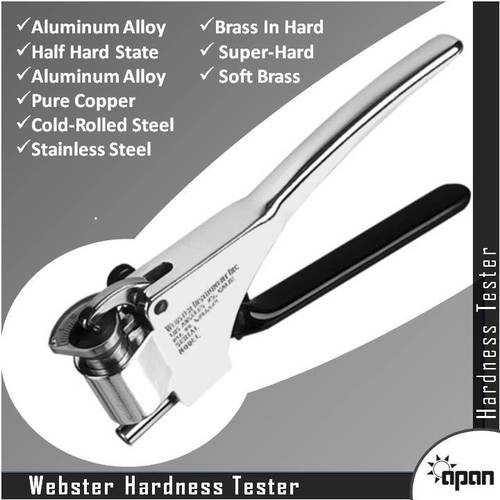 Webster Hardness Tester
Product Description
Webster Hardness Tester is Portable, fast, accurate hardness gage available in several models for testing materials such as aluminum, brass, copper and mild steel. Quickly identify tempers. Tests a variety of shapes that other testers cannot check: Extrusions, Tubing and Flat Stock.
All testers operate in the same manner but differ only in penetrator design, type of load spring and hardness ranges. The principle of operation is simple. The work to be tested is placed between the anvil and the penetrator. Pressure is then put to the handles until "bottom" is felt at which time the dial indicator is read.
Applications for Webster Hardness Testers are:
Identifies heat-treated from nonheat-treated parts.
Provides correlation between a bench mounted hardness tester and the production line.
Segregates materials in stock.
Differentiates between soft or work-hardened material.
Identifies parts made from improper or substandard alloys.
Checks for proper heat-treatment response.
Useful in conjunction with stationary laboratory hardness testers. Gives a rapid 100% check on parts which would consume many man hours with slower operating test equipment.
Can be used on assemblies that cannot be brought to the labs.
Webster Hardness Testers Feature:
One hand operation and portability.
Round 3/8 inch diameter anvil permits testing a great variety of shapes.
Simple operation permits readings independent of the operator's skill.
Test is made by simply putting pressure to the handles until "bottom" is felt.
Easy-to-read dial indicator with 20 graduations permits use of the tester as "go" and "no-go" gauge.
Standard hardness gauge tests materials up to 1/4 inch in thickness.
Increased capacities available up to 1 inch.
The Model B Tester is designed to cover the hardness of aluminum alloys from the 1100 to the 7075 series. The 20 graduations on the Webster dial indicator covers the range between 25 and 110 on the Rockwell E Scale.
The Model B-75 Tester was developed to obtain more sensitive response to slight changes in the upper range of hardness covered by the Model B. This sensitivity is particularly useful in testing mild steel and the stronger aluminum alloys. For brass the B-75 covers the range from annealed to full-hard. This added sensitivity is accomplished by incorporating a penetrator of slightly different contour and a heavier load spring than used in the Model B. The 20 graduations on the Webster dial indicator covers the range between 20 and 100 on
the Rockwell B Scale. The Model BB-75 Tester was developed to answer the need of certain industries for a method of rapidly testing the hardness of electro-deposited copper and copper in the low hardness range. The B-75 penetrator is used to give sensitivity and the Model B load spring is employed to give light pressures. This combination allows the user to test the soft range of many common materials.
Specification
Testing Range

Specimen Size/mm

Application

25-110 HRE

58-131 HV

Thickness 0.4-6

Inner diameter>10

Aluminum alloy

Thickness 0.4-13

Inner diameter>10

Thickness 0.4-8

Inner diameter>6

63-105 HRF

Thickness 0.4-6

Inner diameter>10

Brass in hard or half hard state
super-hard aluminum alloy

Thickness 0.4-8

Inner diameter>6

18-100 HRE

Thickness 0.4-6

Inner diameter>10

Soft brass
pure copper

Thickness 0.4-8

Inner diameter>6

50-92 HRB

Thickness 0.4-6

Inner diameter>10

Cold-rolled steel sheet
stainless steel