Wall Tie Locator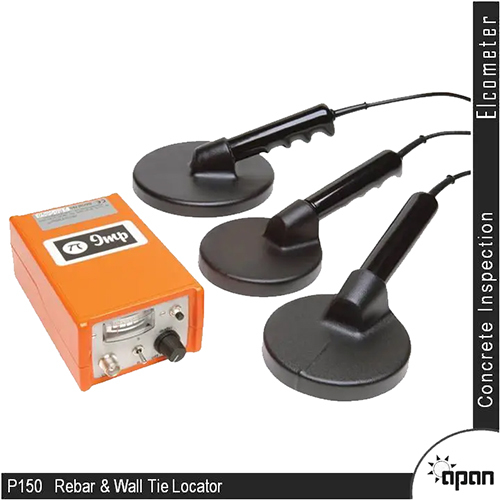 Wall Tie Locator
Product Description
As a Authorized dealer we are engaged in providing the broad assortment of Elcometer, UK make 'Concrete Inspection' Equipments. Elcometer P150 Rebar & Wall Tie Locator is combined rugged gauge is supplied with three detector heads to determine both rebar and wall tie location and can also be used as an excellent stud locator / stud detector making it an extremely versatile instrument.
Supplied with two mild steel 100mm search heads and an additional 150mm search head which allows the gauge to locate phosphor-bronze, copper and some types of stainless steel wall tie.
The Elcometer P150 can detect mild and stainless steel rebars, bed joint reinforcement, hoops irons, and can locate wiring in plaster walls.\
Features
High-impact ABS control unit in a tough leather case
Search coils encapsulated in epoxy resin for unmatched ruggedness
Unit is switchable to detect or ignore stainless steel
Single control button for on/off and sensitivity/back off control
Built-in loudspeaker for clear audio signals; Standard 3.5mm stereo jack socket for headphones if required
Fast and accurate - Strongest signal is in the middle of the search head which makes it easy to pin point wall ties. A clear audio tone assists in the quick and precise location - no need to keep looking at the meter
No need to re-zero and stable in all weather conditions
Designed with the operator in mind, easy to use, single handed operation with leather carry case and shoulder strap for safety and convenience Stainless steel does not give a strong signal. Please either send a drawing or ideally a sample of stainless steel wall tie you need to locate so we can test and advise as necessary.
Contact Us
301, Pacific Plaza, VIP Road, Kareli Bagh, Vadodara, Gujarat, 390018, India
Phone :09624419419