Vision Inspection Borescope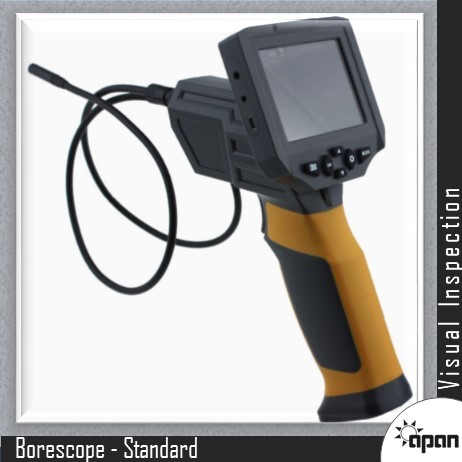 Vision Inspection Borescope
Product Description
Visual Inspection Borescope

As a Authorized dealer we are engaged in providing the broad assortment of wide gamut of Vision Inspection instruments.

Industrial endoscope can be used to examine and observe the place of high temperature, toxic, nuclear radiation and the human eye can not be directly observed, mainly for the automotive, aerospace engines, pipes, mechanical parts, etc., can be assembled and without dismantling or destruction of equipment stop running the case of non-destructive testing.

Specification:

3.5 LCD Screen
2 MPixels
Memory what you see on the screen
Probe one meter long 8.5mm in diameter, flexible
Camera with 6 LED lights can be used in a dark space, the camera focal length of 2-8CM
Image Capture in JPEG file format, video Recording in Monitor JPEG(AVI)
Display resolution: Image :640 x 480 pixels,
Video( with Audio) D1 720 x 480
Zoom In/Out (Max.5X)
Interface: SD card (to 32GB SDHC), USB 1.1, RGB Video out.
Power:1.5V AA battery ( working time:4-5 hours)
Application:

Steel equipment maintenance, pipe products used for the quality inspection.
Industrial machinery inspection, boiler, heat exchanger; Mechanical equipment and manufacturing equipment.
Electrical and electronic industrial machinery, parts inspection, and the research and development areas.
Auto check engine, hydraulic parts, nozzle parts quality inspection and assembly testing.
Railway, ship inspection turbine, heater, diesel engine, the flame boiler, pipe inspection.
Contact Us
301, Pacific Plaza, VIP Road, Kareli Bagh, Vadodara, Gujarat, 390018, India
Phone :09624419419