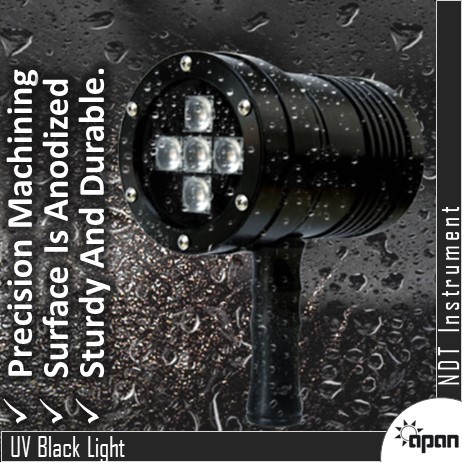 UV Black Light
Product Description
As an authorized dealer we have expertise in wide gamut of NDT instruments for various application.
Handheld LED UV NDT Lamps are mainly used in industrial detection, including Fluorescent Penetrate Testing, Fluorescent Magnetic Particle Flaw Detection and Fluorescent Leak Detection. Other Applications: Oil and Stain detection, special gas, oil and gas pipeline inspection, Fluorescence Reflectance Detection of Special Substances, Criminal investigation and forensic investigation, Paper currency identification, gem appreciation, agriculture, food, medical and other related industries.
Industrial LED UV NDT Lamp is a professional portable UV Detection Light with High Power Output and Quick Start, can reach the maximum illuminance as soon as switched on.
Features:
VM Series adopts high-power 365nm Ultraviolet band LED Lamp Beads produced by Japanese NICHIA company, free from UV-B and UV-C element, spectrum is pure
The lifetime of Lamp beads reach up to 20000 hours, efficient, energy conservation and environmental protection
High power output, quick start, can reach the maximum luminance as soon as switched on
Ultra-low power, ultra-high efficiency. Cold operated with cold light source, long term stability output the luminance
Optical filter is high UV transmittance transparent Quartz optical glass
The built-in efficient cooling fin and low noise high speed fan dissipate the heat through aluminium alloy shell integrally
The shell of the instrument is made of high strength aluminum alloy 6061-T6 precision machining. The surface is anodized, sturdy and durable
Dedicated high-speed charger is equipped
With anti magnetic interference function, it can be used in high-intensity magnetic field
Both switches and charging port are at back of the device to avoid mis-operation
The product has passed through International Standard of IEC 60529 --Housing Protection Grade(IP66)--dustproof and waterproof testing, wider working environment and more reliable
Specifications of VM Series Industrial LED UV NDT Flashlights
Product Model

VM100

VM100D

NOMINAL STEADY-STATE UV-A INTENSITY

at 38cm (15 in)

16000μW/cm²

10000μW/cm²

UV-A COVERAGE AREA

at 38cm (15 in)

at minimum 1200μW/cm²

φ250mm

φ200mm

VISIBLE LIGHT MEASUREMENT

10.89 lux

9.21 lux

LIGHT SOURCE

365nm UV-A LED

NUMBER of LEDs

5

4

POWER REQUIREMENTS

100-240V AC, 50/60 Hz

16.8V DC

BATTERY MODEL

-

8 3.7V 2600mAh

ICR 18650 Li-ion battery

RUN TIME (CONTINUOUS)

-

7 hours

CHARGE TIME

-

4 hours

COOLING SYSTEM

Built-in fan

DIMENSIONS

LAMP HEAD DIAMETER

120mm

WINDOW DIAMETER

88mm

LENGTH

190mm

HANDLE LENGTH

120mm

WEIGHT (with battery)

1290g

1560g
Contact Us
301, Pacific Plaza, VIP Road, Kareli Bagh, Vadodara, Gujarat, 390018, India
Phone :09624419419