Ultrasonic Thickness Gauge (Standard)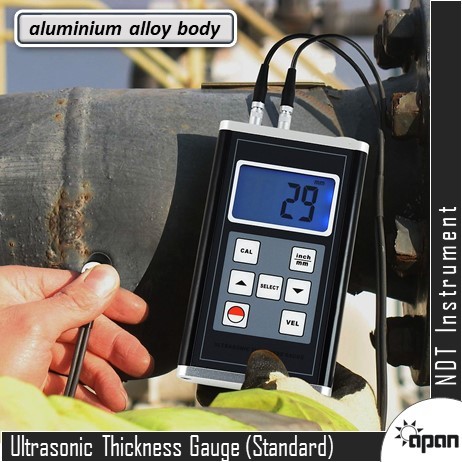 Ultrasonic Thickness Gauge (Standard)
Product Description
As an Authorized dealer we are engaged in offering wide gamut of NDT Instruments.
Handheld Ultrasonic Thickness Gauge with metal case and test range from 0.9~400mm. Used for measuring thickness and corrosion of pressure vessels, chemical equipment, boilers, oil storage tanks, and more in industries of petroleum, ship building, power station and machine manufacturing. It uses the latest high performance and low power consumption microprocessor technology.
Applicable to measure the thickness of many materials, e.g. Steel, Cast iron, Aluminum, Red copper, Brass, Zinc, Quartz glass, Polyethylene, PVC, Gray cast iron, Nodular cast iron.
Used the exclusive Micro-computer LSI circuit and crystal time base to offer high accuracy measurement.


With high power of emission and broad of receiving sensitivity, the gauge can match probes of different frequencies. That makes it easy to measure the rough surface, even cast iron.

Bidirectional measurement, for materials within measurement range, thickness is measurable with know velocity, Conversely velocity is measurable with know thickness.

Automatic memory material code and sound velocity value, convenient to use

Automatic power off to conserve battery power
Can communicate with PC computer for statistics and printing by the optional cable and the software for RS232C interface (not included in the set).
Has CE marking, conforms with the essential health and safety requirements set out by the European Directives

Specifications:
Display: digital 4 digit LCD

Operating principle: ultrasonic

Range: 0.9~400mm (45# steel) R

Resolution: 0.1mm / 0.01mm / 0.001 inch

Accuracy: + 1 (0.5%n+0.1)

Sound Velocity: 1000~9000 m/s

Power off: auto and manual power off

Battery indicator: low battery

Power Supply: 2 x 1.5V AA (UM-3)

Operating Condition: Temperature: 0~40oC, Humidity: <80%

Case material: aluminum alloy

Size: 130 x 76 x 32mm

Weight: about 340g (excluding batteries)