Ultrasonic Hardness Tester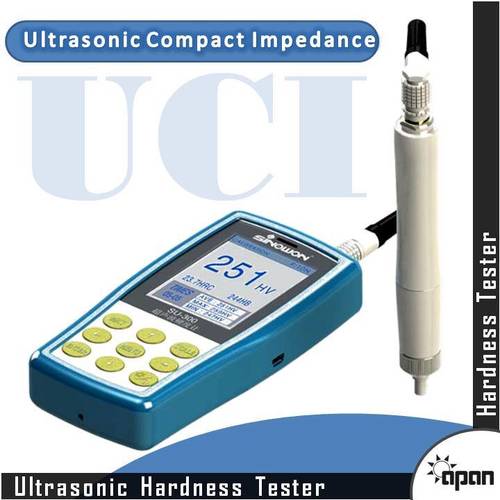 Ultrasonic Hardness Tester
Product Description
As a Authorized dealer we are engaged in providing the broad assortment of "Hardness Tester" includes table top and Portable type. SU-300H manual ultrasonic hardness tester put module design, which can work with manual probes HP-1K, HP-2K, HP-5K, HP-10K, can be used to test hardness of small forgings, cast material, weld inspection, heat affected zone, Ion-nitrided stamping dies and molds, forms, presses, thin walled parts, bearings, tooth flanks, etc.

SU-300H can test hardness of ferrous metal, non ferrous metal and alloys, it is an ideal instrument, can test hardness of HRA, HRB, HRC, HV, HBW, HS on site, assembly line and lab.

SU-300H can also be upgraded with motorized probes MP-300, MP-500, MP-800, MP-1000, then the function is same with SU-300M.
Features :
Perfect Accuracy : 3% HV, 1.5HR, 3%HB
Microscopic Indentation : Only high-power microscope can observe the indentation
Quick Measurement : Result in 2 seconds
Large LCD Display : Directly display measurement result, times count, maximum, minimal, average and deviation.
Friendly Operation : Operate well after short training
Mass Storage : Save 1000 groups measurement data
Simple Calibration : Save 20 groups calibration data for invoking, improve calibration efficiency.
Wide Application, Powerful Function
Ultrasonic Hardness tester is widely used to measure hardness of flange edges and gear root of stamping parts, mould, sheet, hardening surface of the tooth and gear and taper part hardness; And hardness of the shaft, the pipe including inside and outside wall, container, the wheel, turbine rotor, bit blade , HAZ weld, printing roller, injection molding machine screw parts ,etc.
Amazing Design and Workmanship
Innovative use of ergonomic, streamlined design, exquisite metal exterior, metal and glass panels presented a smooth flowing, environmentally friendly yellow screen buttons, and side power supply control switch, it has been such a high level of design and manufacturing process; it is all that achieved the prosperous Ultrasonic Hardness Tester incredible perfect look.
Manual Probe :
Introduced latest ultrasonic sensor technology
Obtain accurate hardness value without auxiliary devices
Support 360 quick measuring
Excellent human engineering design easy to hold
Suitable dimension and weight of probe is convenient to control
Quick and accurate measuring for edge and fixed position of specimen
Micro indentation, Non- Destructive for specimen
Measuring Range(ASTM) : HBS:100-500; HV:100-1500; HRC:20-68; HRB:55-100; HRA:37-85; Mpa: 255-2180N/mm
Contact Us
301, Pacific Plaza, VIP Road, Kareli Bagh, Vadodara, Gujarat, 390018, India
Phone :09624419419