Ultrasonic Flaw Detector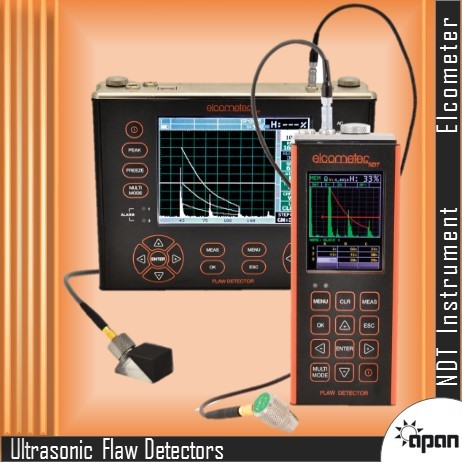 Ultrasonic Flaw Detector
Product Description
As an Authorized dealer we are engaged in providing the broad assortment of "NDT Instrument" for various applications.
These powerful bench top & hand-held mini flaw detectors combine state of-the-art flaw detection with advanced ultrasonic material thickness capabilities.
The Elcometer FD700 and FD800 range, when in flaw detection mode, offers a variety of tool kits which enable fast and accurate flaw detection, ideal for weld inspection, forgings or composite material testing.
The FD700 series are a combined corrosion gauge and flaw detector that measures with extreme versatility.
When the GAUGE function is set to THICKNESS GAUGE, the FD700 series becomes a Corrosion Gauge which has the ability to measure coatings and material thickness simultaneously while maintaining the ability to locate pits, flaws and defects in the material. Based on the same operating principles as SONAR, the FD700 series are capable of measuring the thickness of various materials with accuracy as high as +/- 1% or +/- 0.1 millimetres (+/- 0.005 inches) whichever is the greater.
When the GAUGE function is set to FLAW DETECTOR, the gauges become a Flaw Detector which have the ability to detect the size and position of flaws and to differentiate between flaw types in various materials and welded joints.
FEATURES :
Two gauges in one: Corrosion (thickness) gauge and Flaw Detector
Wide range of thickness measurement modes: Pulse-Echo, Echo-Echo, Echo-Echo Verify, Coating Only, Pulse-Echo with Temperature Compensation, and Pulse-Echo with Coating
Automatic: probe zero, probe recognition, and temperature compensation.
Adjustable gain settings.
Stores up to 64 custom setups for specific applications.
High speed scan mode of up to 50 readings per second.
Audible/visual alarm with high and low limit settings.
Differential mode for QC inspections.
Colour display.
Radio frequency RF and RECT A-Scan displays.
Time based B-Scan display for cross section material scans (thickness gauge).
Measurement data storage formats: Alpha numeric grid and sequential with auto identifier.
Data can be downloaded to a computer for analysis and storage.
The principal advantage of ultrasonic thickness measurement over traditional methods is that ultrasonic measurements can be performed with access to only one side of the material being measured. The gauges include a data-logging (memory) facility which allows readings and waveforms to be stored in batches before being downloaded to a computer.