Ultrasonic Cable Height Meter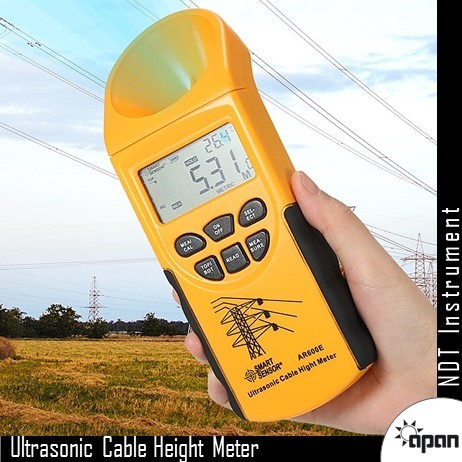 Ultrasonic Cable Height Meter
Product Description
The Ultrasonic Cable Height Meter with the Horizontal Adapter can be used for depth measurement, (examples: An elevator shaft or well) provided there is sufficient width to permit a proper ultrasonic reflection. (1.4m either side of the centre of ultrasonic beam at 23 metres distance)
Features:

For measuring the height up to 6 cables together

Convenient to take measurement, easy to aim at the measuring position and to read measuring results.

For measuring the distance between wire and wire

Be applicable to different use of cables

Uses large measuring sensor, higher accuracy than existing cable height meter in market

Compact and easy to take along.

For measuring dimension of house and distance between objects

The temperature compensation function enables the unit compensates error automaticlly under the temperature of -10C+40c, and ensures the measuring accuracy on different temperature conditions
Product Description:
Technical Specifications
Range (25mm cable mini) : 3~23m
Range (12mm cable min) : 3~15m
Range ( 5.5mm cable min) : 3~12m
Range ( 2.5mm cable min) : 3~10m
Horizontal measuring range : 3~18m
Operating temperature range : -10~40C
Resolution(range<10m) : 5mm
Resolution(range > 10m) : 10mm
Measuring accuracy : 0.5%+-2d
Minimum gap between wires : 150mm
BOT mode : measuring the height of the most lower 6 cables
Top mode : measuring the height of the most higher 6 cables
Auto power off delay : 120s
Low battery alarm : 7.2v+-0.2V
Imperial & metric unit transition
Displays real time temperature
Operating voltage : 9V 6F22
Product Dimision : 75 x72 x 200mm
Product Net Weight : 205g
Individual Cable Height Measurement : Yes -Bottom to Top, or Top to Bottom
Minimum Gap between Cables : 15cm
Includes : Carry case, Vinyl Pouch, Battery 9V, Horizontal Adapter.
Measurement Applications:
Electrical, Forestry, Industrial, Mining, Overhead cables, Tree branches, Elevator shafts, Depth of Wells.