Steel Structure Analyzer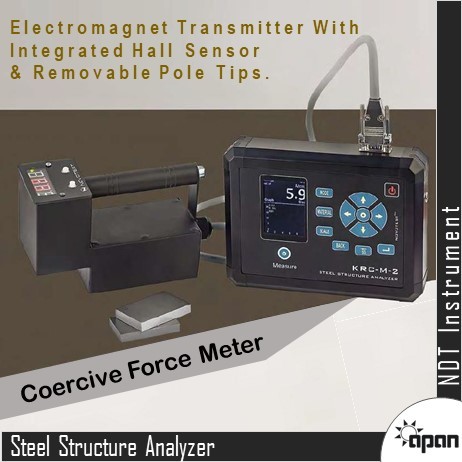 Steel Structure Analyzer
Product Description
As a Authorized dealer we are engaged in providing the broad assortment of wide gamut of NDT Instruments.
Steel Structure Analyzer is designed for measuring coercive force of metal products in accordance with IEC 60404-7 and is used for non-destructive testing of chemical-thermal, thermal and thermomechanical treatments, evaluation of mechanical properties and residual stresses.
Steel structure analyzer (Coercive Force Meter) is used for determination of mechanical properties, and measurement the hardness of metal products, as well as measurements of products of ferromagnetic alloys in the presence of correlations between the studied parameters. In addition, the device is used for testing the surface layer of ferromagnetic material for grading the metal in steel grades.
It has an electromagnet transmitter with integrated Hall sensor and removable pole tips.
The operation principle of the device consist of following: initially is performed a magnetization of area of the tested object and after that its subsequent progressive demagnetization by the increasing of the field. Next, it is the fixation of the intensity of magnetic field in accordance with the coercive force of material of tested object and measurement the amplitude of signals from the Hall sensor.
The main area of using the Steel Structure Analyzer is analys the stress-strain state and residual life of pipelines, elevators, cranes and lifts, pressure vessels, steel cables of bridges also it used in engineering and metallurgical industries.
The probe with optional display and buttons control of the main functions
Averaging 99 results, with the possibility to use the predictive average
Memory: up to 100,000 measurements with the ability to view them on the screen of the device, or transfer to PC
Real-time clock each measurement is saved with the date and time
Ability to enter additional scales and additional materials for calibration
Calibration mode of basic and additional scales
Adjust the brightness of the display, audio, language selection
Ability to save backups calibrations on the internal memory of the device
Smart sensors with built-in memory of calibrations
Specification
Standard modes

Measurement of coercive force
Current measurement
Code measurement (units)
Additional scale for calibration

The measuring range of the coercive force, m (/m)

1-40,0 (100-4000)

Measurement cycle, seconds, not more

5

Magnetize

pulse

Additional scale for calibration

7

Power

Li-Ion battery

Battery life, h, not less

8

Dimensions of the electronic unit, mm

270x230x70

Dimensions of the probe, mm

200x170x70