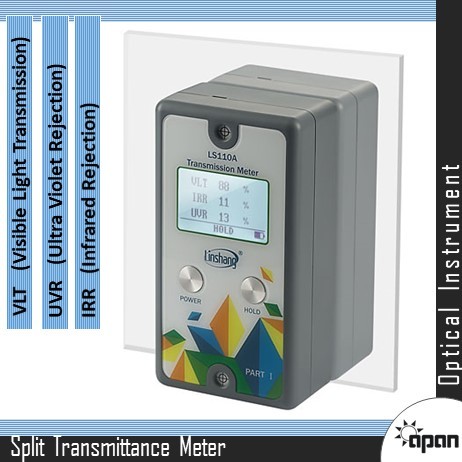 Split Transmittance Meter
Product Description
As an Authorized dealer we are engaged in providing the broad assortment optical instruments.
Split transmission meter has three independent testing units to measure the transmittance value of ultraviolet light, infrared light, and visible light. It is used for the transmittance testing of glass, plated film, organic materials, solar film and other translucent materials such as insulating glass, filmed glass, PMMA materials etc.
It consist of two parts: main part for measuring and displaying functions and the auxiliary part for light source and laser light for alignment.
Features :
Two-parts dual mode of the main and auxiliary part facilitates the transmittance measurement of the automobile front windshield glass and building glass.
The built-in lithium rechargeable battery is easy for use without replacing the battery;
Use the USB port of computer to charge the meter via the built-in charger;
The laser alignment function guarantees the accurate alignment of the main part with the auxiliary part in the process of measurement and ensures accurate measurement.
Three light Transmittance Meter in one device; result is the average of three values
Two laser for two part alignment, more accuracy.
Specifications :
VL Peak wavelength: 550nm
UV Peak wavelength: 365nm
IR Peak wavelength: 950nm
Test sample size: > 40 x 40mm
Accuracy: better than +/-2% (Colorless and transparent material)
Resolution: 0.1% for measured value<10% and 1% for other ranges
Power supply: built-in lithium rechargeable battery
Dimension: 140mm x 82mm x 92mm (length x width x height)
Weight: 680g
Contact Us
301, Pacific Plaza, VIP Road, Kareli Bagh, Vadodara, Gujarat, 390018, India
Phone :91-96244-19419