Specular Gloss Meter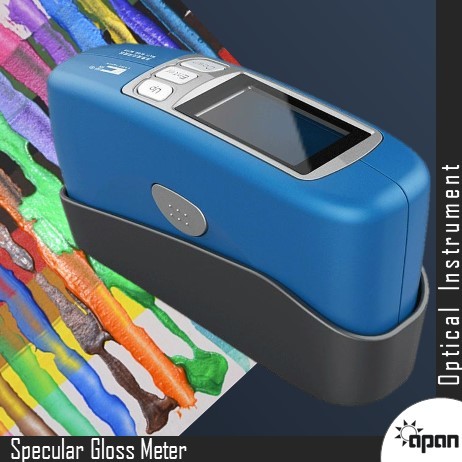 Specular Gloss Meter
Product Description
As a Authorized dealer we are engaged in providing the broad assortment of wide gamut of Colour Appearance test and measurement instruments.
Colour and Gloss are two key parameters that are used to define a product's overall quality. The ability of a surface to reflect light without scattering is known as gloss. Using a gloss meter, gloss is measured by directing a constant intensity light beam at a fixed angle to the test surface and then by monitoring the amount of reflected light at the same angle. Different surfaces require different reflective angles.
Gloss meters are mainly used in the surface gloss measurement for paint, plastic, metal, ceramics, building materials and so on. Our gloss meter conform to the DIN 67530, ISO 2813, ASTM D 523, JIS Z8741, BS 3900 Part D5, JJG696 standards and so on.
Features
Gloss meter adopts sensor from Japan, and processor chip from the US to ensure highly precise of the measured data.Our gloss meters conform to JJG 696 standard for first class gloss meters. Every machine has metrology accreditation certificate from State Key Laboratory of modern metrology and testing instruments and Engineering center.
Super Stability (Patent Right No.: ZL2012201796876
Every gloss meter made by us has done the following test:
412 calibration tests;
43200 stability tests;
110 hours of accelerated aging test;
17000 vibration test.
Comfortable Grab Feeling
The shell is made by Dow Corning TiSLV material, a desirable elastic material. It is resistant to UV and bacteria and do not cause allergy. This design is for better user experience. Large Battery Capacity Fully utilized every space of the device and specially custom made advanced high density lithium battery in 3000mAH , which ensures continuous testing for 54300 times. Glossmeter Application Example The glossmeter could be widely used for measuring the glossiness of building material, electroplate, plastic products, metal products, ceramic products and automobile accessories.
Specification
Model Gloss Meter

CS-380

CS-300

Test Angle

20, 60, 85

60

Test Light Spot (mm)

20: 10 x 10

60: 9 x 15

60: 9 x 15

85: 5 x 38

Test Range

20: 0 - 2000 GU

60: 0 - 1000 GU

60: 0 - 1000 GU

85: 0 - 160 GU

Resolution

0.1 GU

Test Modes

Simple mode, Standard mode and sample testing mode

Repeatability

0 - 100 GU : 0.2 GU

100 - 2000 GU : 0.2% GU

Accuracy

Conform to JJG 696 Standard for first Class Gloss Meter

Test Time

Less than 1s

Data Storage

100 Standard Sample ; 10000 Test Sample

Size (mm)

165 x 51 x 77 (L x W x H)

Weight

About 400 g

Language

English

Battery Capacity

3000 mAh lithium Battery

Port

USB, Bluetooth (optional)

Upper-PC Software

Include

Working Temperature

0 - 40C

Working Humidity

<85%, no Condensation

Accessories

5V/2A Charger, USB Cable, Operating manual, software CD , Calibration board , metrology accreditation certification
Contact Us
301, Pacific Plaza, VIP Road, Kareli Bagh, Vadodara, Gujarat, 390018, India
Phone :09624419419