Spectrum Transmission Meter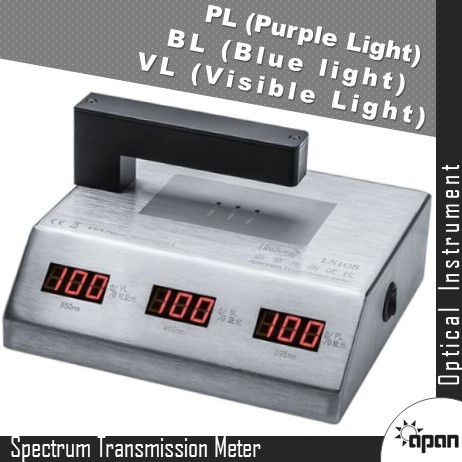 Spectrum Transmission Meter
Product Description
As a Authorized dealer we are engaged in providing wide gamut of optical instruments used in various applications.

It is able to simultaneously measure and display PLPurple Light, BL(Blue light) and VL(Visible Light) transmission values. This meter is self-contained light sources and self-calibration. No adjustment is needed. The users only need plug the power supply, turn on the switch and put the sample in the testing position. The resulting performance data appear on the display.

Specification :
Size: 200mm x 180mm x 106mm (LxWxH
Size of Testing sample: > 3mm
Weigh: 1500g
Resolution: 0.1%
Accuracy: 2%(Colorless and transparent material)
6.Purple light Peak wavelength: 395nm
Blue light Peak wavelength: 460nm
Visible light Peak wavelength: 550nm
Power supply: 5V DC Adapter
Features:
PL transmission meter, BL transmission meter, Light Transmittance Meter, Three function in ONE device.
Self-calibration and auto-calibration, NO need any manual adjustments.
Simple operation, putting the testing sample in the testing position, PL, BL and VL transmission values of the sample will simultaneously display.