Small Aperture Gloss Meter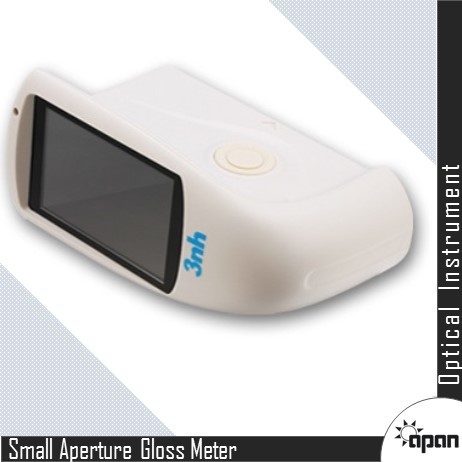 Small Aperture Gloss Meter
Product Description
As an Authorized dealer we are engaged in providing the broad assortment of "Optical Instruments" for various applications. NHG60M micro aperture gloss meter adopts small aperture 1.5*2mm, with 60 angle, manufactured according to ISO2813 and GB/T 9754. It is also compatible with the standards of ASTM D523, ASTM D2457. NHG60 conforms to JJG696 first class gloss meter working requirement, corresponding with CIE 1931 under CIE C light source.
NHG60M gloss meter can test material with gloss (0-1000Gu), and universally used to paint, ink, stoving varnish, coating, wood products; marble, granite, vitrified polished tile, pottery brick and porcelain; plastic, paper; hardware industries, etc. for gloss measurement and gloss data transmission.
Features:
Small aperture: 1.5*2mm

60 angle for semi gloss

Display 5 sets of measurement data, good for comparison

Measuring mode: basic measurement, statistical measurement, continuous measurement, QC measurement (only for GQC6 software).

Continuous mode to check uniformity over large areas

Connect to PC, more extend functions

Input gloss value manually

Large touch screen operation, easy to use

Beauty appearance, good man-machine communication interface

Powerful functions to meet many different requirements

Large storage to save over 5000 data

Built-in lithium ion rechargeable battery.
Specifications:

NHG60M Micro Aperture Gloss Meter

Model :

NHG60M

Measure Angle

60
Comply with standard ISO 2813,GB/T 9754, ASTM D 523, ASTM D 2457

Measuring Area (mm)

1.5*2

Measurement Range

0~1000GU

Division Value

0.1GU

Measurement Range Repeatability Reproducibility

0-10GU 10-100GU 100-1000GU
0.1GU 0.2GU 0.2%GU
0.2GU 0.5GU 0.5%GU

Measurement Standard

Conform with JJG696 first class gloss meter working requirement

Chromaticity Corresponding

Corresponding with CIE 1931(2) under CIE C light source

Errors

1.5 , 1.5%

Measuring Time

0.5s

Dimension

L*W*H : 160mm*75mm*90mm

Weight

350g

Language

Chinese/English

Battery

3200mAh Li-ion Battery, >10000 times(within 8 hours)

Viewing Screen

TFT 3.5 inch, capacitive touch screen

Interface

USB/RS-232

Data Storage

Basic mode: 1000,

Statistical Mode: 5000,

Continuous mode : 5000

Software

GQC6 Quality Control Software with QC report printing functions and more extended functions.

Operation Temperature

0~40 deg.

Storage Temperature

-20~50 deg.

Humidity

<85% relative humidity, no condensation

Standard Accessories

Power Adapter, USB cable, User Manual, CD (Including QC software), Calibration Plate

Optional Accessories

Miniature Printer