Sling Psychrometer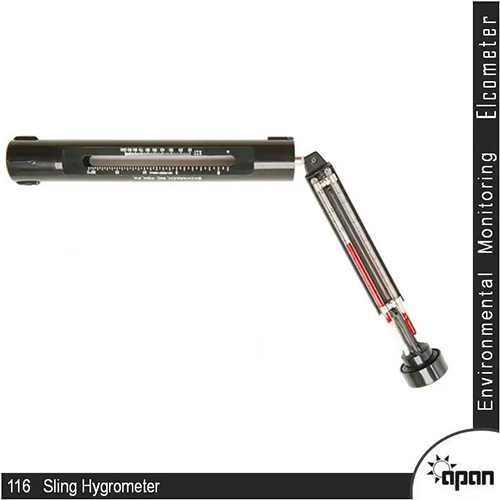 Sling Psychrometer
Product Description
As a Authorized dealer we are engaged in providing the broad assortment of wide gamut of Sling Psychrometer Kit.
The Elcometer 116C Sling Hygrometer is a convenient, self contained instrument with an inbuilt slide rule for the calculation of %RH and dewpoint.
A dependable, accurate RH meter
Fast, accurate measurement of RH for many applications
Simple to operate and read the measurements
Designed to be compact with portability in mind
The Sling Psychrometer is an easy and affordable way to measure relative humidity levels quickly and accurately. It is ideal for many applications, including the measurement of conditions within indoor environments, storage areas, laboratories and more.
The Sling Psychrometer measures RH between 10 and 100% (for dry bulb temperatures between 30 and 100 F) with an accuracy of 5%.
Measurement Range :
Dry/wet bulb temperature :25 to 120 F or -5 to +50 C (see ordering information)
Relative humidity (RH) : 10 to 100%, for dry bulb temperature between 30 and 100 F (-1 and 38 C)
Wet-bulb temperatures should be read first and as quickly as possible for highest accuracy. Delay in reading may cause error. In addition, the wick must be kept clean, saturated with water, and whirled long enough to stabilize temperatures. The range of the psychrometer is from 10% to 100% R.H., for dry-bulb temperatures of 30 to 100F (5 to 50C).
In addition to the above instructions, barometric pressure and other factors will influence exact relative humidity determinations to a very minor degree. For precise work, use a psychrometric chart or set of tables such as W.B. No. 235 Psychrometric Tables for Obtaining the Vapor Pressure, Relative Humidity, and Temperature of Dew Point, which can be purchased from the Superintendent of Documents, United States
Government Printing Office, Washington, D.C. The accuracy of the Psychrometer, however, is satisfactory for all except the most exacting work.
Specification
| | |
| --- | --- |
| Accuracy | +- 1 DegreeF, +- 0.5 DegreeC |
| Usage/Application | To determine the dew point and relative humidity (RH) at any given time. |
| Brand | Elcometer |
| Temperature Range | -5 DegreeC to 50 DegreeC (23 DegreeF to 122 DegreeF) |
| Weight | 0.45 kg |
| Size (H x W x D) | 7.5 x 1 x 1 in. (19.0 x 2.5 x 2.5 cm) |
| Relative humidity (RH) | 10 to 100%, for dry bulb temperature between 30 and 100 DegreeF (-1 and 38 DegreeC) |
| Operating Conditions | 25 to 120 DegreeF (or -5 to +50 DegreeC), 10 to 100% RH (non-condensing), 1 ATM +- 10% |
| Dry/wet bulb temperature | 25 to 120 DegreeF or -5 to +50 DegreeC |