Precision Thickness Gauge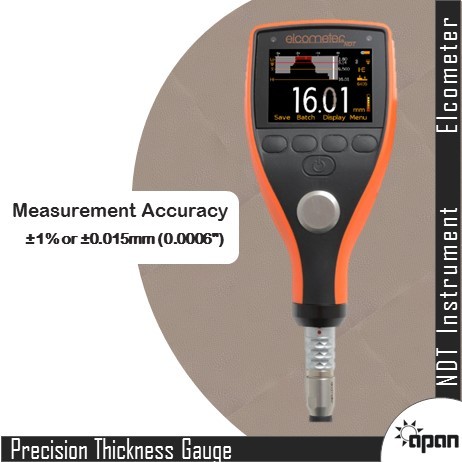 Precision Thickness Gauge
Product Description
As an Authorized dealer we are engaged in providing the broad assortment of "NDT Instrument" for various applications.
The PTG8 is the top of the range gauge with all the features and functionality necessary for measuring, with precision, material thickness on virtually any material.
Interface Echo (I-E) Echo-Echo (E-E) ) & Plastic Mode (PLAS) measurement modes
Measurement range from 0.15mm (0.006") to 25.40mm (1.00")
2-Point, 1-Point, Material & Factory Calibration options
Three user programmable calibration memories
User selectable measurement rate; 4,8,16 readings per second
User selectable reading resolution; 0.1mm (0.01") or 0.01mm (0.001")
Scan Mode
Readings, selected statistics, Bar Graph, Run Chart, B-Scan & Differential Mode
Gauge memory; stores upto 100,000 readings in up to 1,000 sequential or grid batches
User definable upper and lower limits with audible & visual pass/fail warnings
USB and Bluetooth data output to ElcoMaster and ElcoMaster Mobile Apps
All gauges have a fully customisable, scratch and solvent resistant colour LCD display. Measurement modes available include Pulsed-Echo (P-E), Echo-Echo ThruPaint (E-E), Interface Echo (I-E), Plastic Mode (PLAS) and Velocity mode (VM) (for more information on measurement modes, see page 3). A choice of measurement units are available, depending on the measurement mode selected. A stability indicator shows clearly both the strength and reliability of the ultrasonic signal.
When enabled, users can slide the transducer over a large surface area whilst the gauge takes readings at a rate of 16 Hz (16 readings per second). During each scan, the live thickness is displayed together with an analogue bar graph showing the thickness relative to the set nominal value and any user defined limits, with audible and visual warnings if any readings fall outside the set limits. When the transducer is lifted off the surface, the average, lowest and highest thickness value is displayed making scan mode ideal for checking a samples overall uniformity.
A trend graph of the last 20 readings, showing the variation in material thickness over the test area. The graph is updated automatically as each reading is taken and any readings outside the set and enabled limits are displayed in red thus allowing the user to easily identify areas where corrosion may be present or the material is too thick for purpose.
Velocity mode measures the speed of sound of materials and is ideal for determining the homogeneity of a material/alloy and the correct velocity of a material for calibration.
A time based, cross sectional 2 dimensional B-Scan provides a graphical view of the material under test, ideal for relative depth analysis. The zoom of the B-Scan reading can either be set to automatic or can be defined by the user to focus on areas of interest.
Plastic mode is specifically designed for measuring very thin plastics.