Powder Whiteness Meter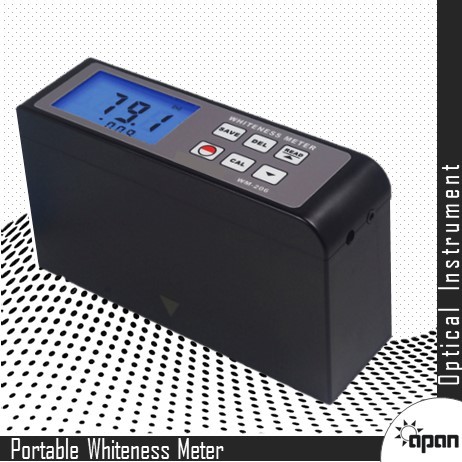 Powder Whiteness Meter
Product Description
As an authorized dealer we are offering wide gamut of "Colour Appearance" test and measurement instruments for wide range of application.
The instrument consists of Light Source, Optical System, Detection System, Data Process and Display System. The Whiteness Calculation Formula of the instrument is blue light whiteness R457.
The light source of the instrument is long-life LED with 457nm, conforming to the light source requirement in the JJG 512-2002 National Metrological Whiteness Meter Verification Regulation. The measurement of the instrument adopts the principle of photoelectric effect. The diffuse reflectance Radiant Brightness Energy Value of the sample surface is receive by the optical cell. Then, the value is amplified by high-precision auto zeroing operation amplifier, inputted to the calibration circuit for energy calibration. Then, the whiteness value of the sample is directly shown on the display.
The optical path design is reasonable, simple. Adopt filter system with correction, the whiteness can be reflected quantitatively.
Use of high quality imported components.
No preheating after starting, measurements can be taken after simple calibration, easy to operate.
Able to memory 254 groups of measurement data.
Pass strict inspection and testing, the instrument conforms to the JJG 512-2002 Whiteness Meter Verification Regulation. Also conforms to GB3978, GB3979, GB7973, GB7974, ISO2470, GB8904.2, QB1840, GB2913, GB13025.2, GB1543, ISO2471, GB10339, GB5950, GB12911 and other standards.
Optional - Powder Forming Apparatus
Optional - RS-232 data output to connect
Optional - Bluetooth data output.
Specification
Range

0~120

Resolution

0.1

Illumination condition

45/0

Illuminant

LED 457 nm

Whiteness Formula

Blue Light Whiteness WB=R457

Measuring Aperture

18x11 mm Rectangle

Zero Drift

0.1

Stability of Display

0.5

Repeatability of Measurement

0.1

Operating Condition

Temperature

0~40c

Humidity

<85 %RH

Power Supply

Lithium Battery

Size

140x45x75 mm

Weight

305 g (Including Batteries)
Whiteness Meter is mainly used to directly measure the whiteness value of solid object or Powder with flat surface. It can be widely used in whiteness measurement of textile printing and dyeing, paint, chemical building materials, paper board, plastic products, white cement, ceramics, enamel, talc powder, starch, flour, salt, detergent, cosmetics and other substances.