Portable Hardness Tester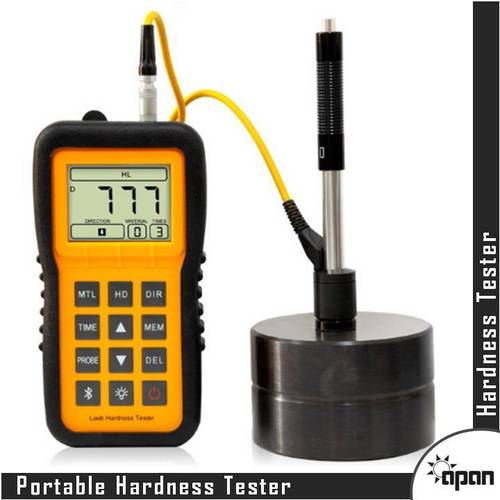 Portable Hardness Tester
Product Description
As a Authorized dealer we are engaged in providing the broad assortment of "Hardness Tester" includes table top and Portable type. provides not only accurate, reliable and repeatable hardness test readings, but also compact, comfortable and durable structure with rubber case for the best protection of the unit. Furthermore, by its most-recent high-tech related features like Bluetooth interface, 800 data storage capacity, large and sharp high contract LCD display, as well as easy and resourceful menu operation.
The impact body, which is equipped with tungsten carbide, impact velocities are measured at the 1mm point from the work piece in the following way:
the integrated permanent magnet will produce directly proportional voltage with the impact velocity.
The Leeb hardness values are calculated by the following formula: HL=1000X(Vb/Va)
Specification
Measuring Method

Leeb Hardness method

Hardness Scale

HL, HB, HRB, HRC, HV, HS, b

Measuring Range

HLD(200-960),

HRC(19.8-68.5),

HRB(13.5-100),

HB(30-651),

HV(80-976),

HS(26.4-99.5),

b(375-2639)

Impact Device

D type impact device standard, optional C / G / DC / DL / D+15

Accuracy

6HLD (HLD=800), Repeatability:less 6HLD (HLD=800)

Measuring Direction

360 degree by manual setting

Material

Steel& Cast Steel, Stainless Steel, GC iron, NC iron, Cast Aluminum alloy, Macht metal, Copper-tin alloy, Brass.

Resolution

1HL, 1HV, 1HB, 0.1HRB, 0.1HRC, 0.1HS

Display

High Contrast Segment Liquid Crystal Display (LED Backlight)

Data Memory

100 groups (each group include 1-7 testing result and 1 MEAN value)

Communication

USB port (Standard) and Blue tooth (Optional)

Printer

Thermal Printer with blue tooth (optional)

Power

2 AA batteries

Working Temperature

-10 to +50

Size

153 x 76 x 37 (mm)

Weight

280g include batteries

Standard

GB/T 17394-1998, ASTM A956