Pencil Hardness Tester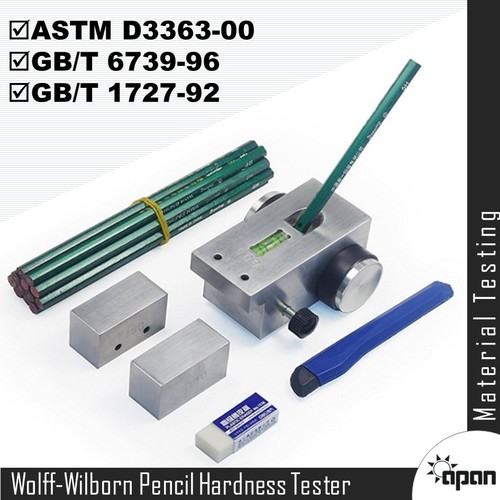 Pencil Hardness Tester
Price And Quantity
Product Specifications
Manual

Two Wheels,a Pencil Core Millimeter (mm)
Wolff Wilborn Pencil Test

Pencil Scratch Method.
1000g / 750g / 500g Kilograms (kg)

Measurement Angle 45
Product Description
As a Authorized dealer we are engaged in providing the broad assortment of Hardness Tester for wide range of material Testing applications.Coating hardness is the necessary measurement for the performance of coatings.Pencil Hardness measurements have been used by the film industry for many years to determine the scratch hardness of a particular coated film. The test for pencil hardness is rather simple to do, however results may vary depending on the equipment and procedure used for the test. Every effort should be made to standardize the test, equipment, and technique followed to get results that can be comparable.This instrument put the Pencil Scratch Method.It is a fast and economical way to determine the film hardness using the drawing lead core or the pencil core.The pencil scratch method for coating hardness testing is a common method in the world since the 1980s.
FAQs

What is Pencil Hardness ?

Hardness, in the coated film industry, is the capacity of a given coated surface to resist scratching, marring or gouging. When expressing the measurement of pencil hardness, we do so with a value scale that ranges from 6B, softest, to 9H, hardest (See image 1-1 for the full scale). Typically, films such as polyester and polycarbonate fall in the ranges of B to 4H depending on if the film is uncoated or coated, and if it is coated, what properties the coating offers. The value is recorded as the hardest pencil that does not scratch or mar the surface of the coating.
How do you Measure Pencil Hardness?
Standardized Procedure.

What is the purpose of pencil hardness test?
A pencil hardness test is a kind of assessment technique that is performed to decide the hardness of a material, ordinarily covering materials. To play out a pencil hardness test, graphite pencils of differing hardness are gotten across a covering's surface.
What precautions should be taken when performing a hardness test?
Accurate hardness values may not be obtained if foreign matter such as dust, rust, or oil is included on contact surfaces.
Trade Information
Cash on Delivery (COD) Cash in Advance (CID) Cheque Cash Advance (CA)

1 Per Day
1 Days

Contact us for information regarding our sample policy
Pencil Hardness Tester, 1000g Weight, 750g Weight, 13 Pencils6B-6H, Eraser, Knife, Horizontal Pad Block, Sandpaper.

ASTM D 3363, BS 3900-E19, ECCA T4, EN 13523-4, ISO 15184, JIS K 5600-5-4