Paint Inspection Gauge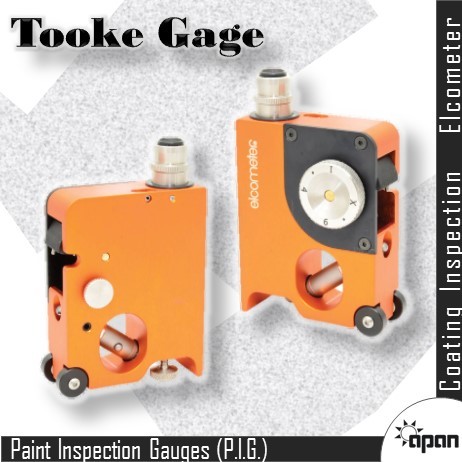 Paint Inspection Gauge
Product Description
As an Authorized dealer we are supplying Elcometer, UK make Coating Inspection Equipment. The Elcometer 121/4 P.I.G. is a hand-held gauge that offers a quick, versatile method of coating examination and measurement in a portable, easy-to-use format. The gauge is available in two versions, Standard and Top:
Destructive determination of dry film thickness of all types of single- or multi-coat systems using the wedge cut method as well as microscopic assessment in order to detect substrate and application defects
Standard gauges can be used for microscopic coating examination and destructive measurement of coating thickness.
Top gauges have the same functionality as standard gauges and can also be used for cross hatch adhesion testing using optional tools.
Both P.I.G. models are supplied with illuminated integrated graticule microscopes.
The Paint Inspection Gauge Top model has an internal carousel allowing each of the three cutters to be selected easily together with a cross hatch adhesion tester.
Compact and convenient, ideal for paint thickness measurement in confined areas
Made of anodised aluminium for durability
Bright LED light source for clear vision
Range 2 - 2000m (0.08 - 80mils) Accuracy is dependent on tool cut angle, half a division
Top Model can hold one cross hatch cutter & three standard cutters which are locked tight, a simple rotation of the cutter holder changes the cutting tool.
Specification
| | |
| --- | --- |
| Tungsten Carbide Cutter No 1 | Angle 45 degree / 20 - 2000 micron (1 - 80mils) |
| Brand | Elcometer 121/4 Standard & Top Paint Inspection Gauges (P.I.G.) |
| Measuring Range | 2 - 2000 micron (0.08 - 80mils) |
| Dimensions | 110 x 75 x 30 mm (4.3 x 3 x 1.2") |
| Weight | 369g (13oz) |
| Tungsten Carbide Cutter No 6 | Angle 5.7 degree / 2 - 200 micron (0.1 - 8mils) |
| Tungsten Carbide Cutter No 4 | Angle 26.6 degree / 10 - 1000 micron (0.5 - 35mils) |
Contact Us
301, Pacific Plaza, VIP Road, Kareli Bagh, Vadodara, Gujarat, 390018, India
Phone :09624419419