Novo Curve Glossmeter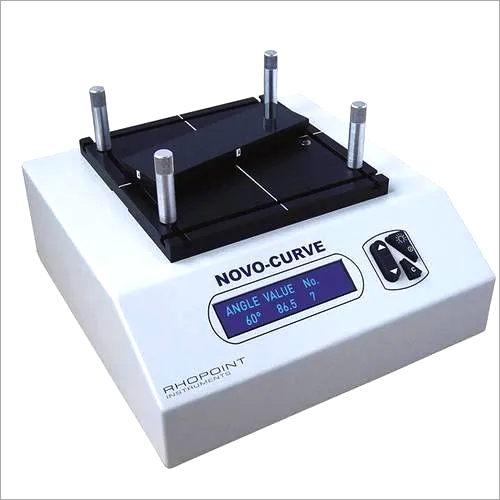 Novo Curve Glossmeter
Product Description
Novo-Curve Glossmeter
As a Authorized dealer we are engaged in providing the broad assortment of wide gamut of optical instruments.Increasingly, specifications and standards require an assessment of gloss. Gloss measurement is necessary to monitor the uniformity, compatibility, or possibly the deterioration of any protective gloss finish. Using the 4 adjustable posts and the small measurement area, the Elcometer 400 is perhaps the only glossmeter designed specifically for measuring covered surfaces, small components and complex shapes. Continuous reading mode allows the rapid assessment of finish variation.
No need to wait for data to download, the LCD screen displays screen index, maximum temperature & graphical representation for each probe. Measures a whole range of products and designs - including:
Paint finish
Wood Varnish
Automobile parts: Trim, steering wheel, dashboard
Glazed Ceramics
Frosted Glass
Large digital clear and easy to read display giving meaningful readings
Non-destructive gloss measurement
Measurement of 60 degrees ASTM Gloss optimized for small areas from low gloss or matt to high gloss
Fully Statistical model
Continuous function enables user to "SCAN" the product quickly
300 measurement Memory
Foot Switch for two hand operation
Data Output to Computer
Full Statistics: Mean, SD, CV
4 Jigging Posts to help in repeatably positioning an item
Optional Jig for repeatably placement of 5mm to 150mm radius cylinders
The Elcometer 400 Novo-Curve is a bench top instrument and parts to be measured are placed over the central aperture. A positioning facility allows repeatable measurements. Statistical analysis is available at the touch of a button and results may be downloaded to a PC via USB interface.
The Elcometer 400 Novo-Curve measures over an area approximately 3% of the size of that utilised by a standard glossmeter (2mm x 2mm).
This instrument is designed to store and average up to 199 readings, so it is possible to "average" a larger area and by using a suitable sample population, it is possible to obtain representative results by statistical analysis
Specification
| | |
| --- | --- |
| Aperture | 4.5mm dia |
| Weight | 2.5 kg |
| Standards | ASTM D523, ISO2813 |
| Measurement Range | 60 Degree: 0 - 1000 GU |
| Memory | 199 readings |
| Power Supply | 110 - 120V AC or 220 - 240V AC |
| Spot | 2 x 2mm |
| Dimensions | 160mm x 220mm x 100mm |
Contact Us
301, Pacific Plaza, VIP Road, Kareli Bagh, Vadodara, Gujarat, 390018, India
Phone :09624419419