Magnetic Yoke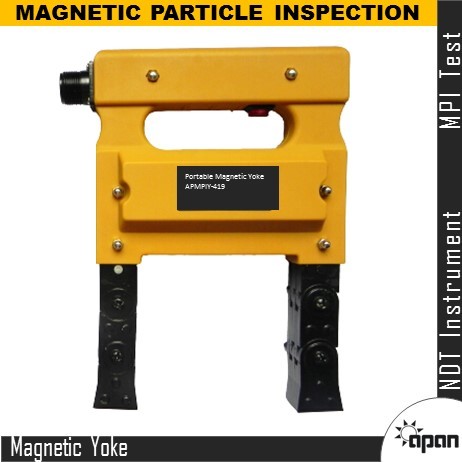 Magnetic Yoke
Product Description
As an Authorized dealer we are engaged in providing the broad assortment of "NDT Equipments" for wide range of application..
Magnetic Particle Inspection "MPI" (also known as Magnetic Testing "MT") is used for the detection of surface and near-surface flaws (such as cracks) in ferromagnetic materials e.g. steel and iron.
To create the magnetic field used in MPI is based on electromagnetism. That is, using an electrical current to produce the magnetic field. An electromagnetic yoke is a very common piece of equipment that is used to establish a magnetic field. It is basically made by wrapping an electrical coil around a piece of soft ferromagnetic steel. A switch is included in the electrical circuit so that the current and, therefore, the magnetic field can be turned on and off.
Application Fields:
Used for the detecting of Oil field, Boat making, Car making, Coal mine, Machine, Medicine, Airplane making and internal combustion engine parts etc.
Also detecting for the surface defecting caused by Forge, Quenching,Welding,Fatigue etc.
Technical Specification:
Type of power supply
Alternating current
Alternating current-direct current
Input votage
220V 10%,50-60Hz
Working power
alternating current 2A, direct current1.8A
Probe limits
20-200mm
sensitivity
Type A specimens show clear
Elevating weight
alternating current(plane)8kg;direct current more than 30kg
Work period
2 minutes to start up and 2 minutes to stop
electric cable 5.5m
Work temperature
Dimension
weight
Contact Us
301, Pacific Plaza, VIP Road, Kareli Bagh, Vadodara, Gujarat, 390018, India
Phone :09624419419