Linear Abrasion Tester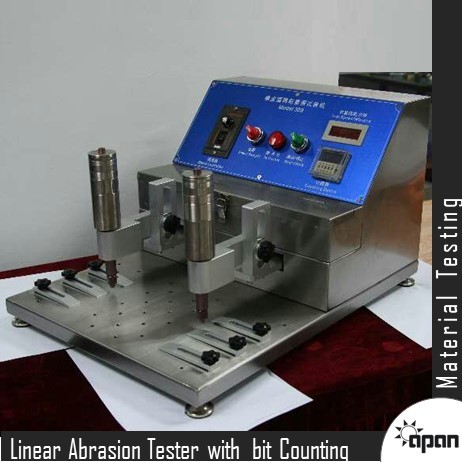 Linear Abrasion Tester
Product Description
As an Authorized dealer we are engaged in providing the broad assortment of Material Testing Instruments for wide range of application.
Linear Abrasion Tester is a universal machine that can practically perform many kind of linear abrasion rub testing by attaching the required accessories and weightsDry or Wet.The Wet Rub Test requires a liquid dispenser with dripping control knob.
The Linear Rubbing is engineered to perform many International Standard Tests, such as Crocking Test, Eraser Test, Liquid/Solvent Rub Test, glass, glasses lens, acrylic board, mobile phone touch screen, film coating, paint silk screen, etc. Which make it a multifunctional rubbing machine.
This machine is suitable for all kinds of surface coating products and print wear-resisting life test. Speed adjustable and visual, tests times can be set at the same time; The test results are accurate, easy to operate.
Three kinds of wear test function:
steel wire friction test

alcoholresistance test

rubber friction test
Various Options are available as per applications.
a) Linear Abrasion Tester
b) Linear Rubbing
c) Linear Rubbing with big working table and all made of stainless steel.
Specification :
The maximum stroke: 0-50mm adjustable.

Speed: 1-60 / min (round trip) adjustable

Friction Hammer: rubber,

different fixture, the other with random weights

Counter: maximum count of 9999 times

Total power: 30W.

Power supply: AC220V 50/60Hz.

Dimensions: 550*400*330mm (length * width * height)
Standard accessories:
Test lifts lever, 60 g 1, 2pcs

Alcohol friction head, 2pcs

Weight, 500g0.5, 2pcs

Weight, 250g0.5, 2pcs

Weight, 100g0.5, 4pcs

Weight, 50g0.5, 2pcs

Eraser ,7017R, 2pcs

Open End Wrench, 1 piece

Allen wrench, 1 set

Brush, 1 piece