IR Body Temperature Meter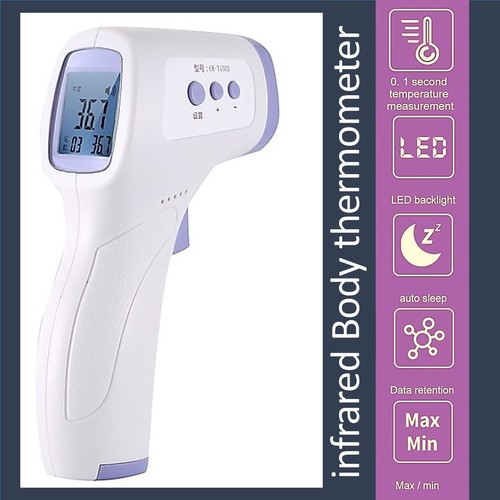 IR Body Temperature Meter
Price And Quantity
Product Specifications
Product Description
Non-contact Temperature Measurement Forehead thermometer
Features:
1Fast temperature measurement: measurement time <1 second.
2. Dual-mode temperature measurement: It can measure human body temperature / material temperature / water temperature / ambient temperature.
3. Temperature alarm: The user can freely set the alarm temperature according to his own situation.
4. Unit conversion: Celsius and Fahrenheit can be converted between different countries and regions.
5. Storage data: Store 32 sets of measurement data, which is convenient for individual and multi-person analysis and comparison.
6. Large-screen display: Large-screen LCD display, white backlight, can be clearly displayed under any light.
7. Easy-to-use power-saving: One-button measurement, simple and convenient operation; automatic power-saving shutdown for 15 seconds without operation.
8. Ultra-long life: Install 2 AA batteries, can be used more than 100,000 times, and the service life of the product is> 3 million times.
9. It is convenient to choose various measurement methods required.
Description:
1. Fast temperature measurement, large screen, alarm, long life.
2. Home temperature measuring tools.
3. Large-screen display: Large-screen LCD display, white backlight, can clearly display the measured value under any light.
4. Modification of settings: You can modify the setting parameters to adapt to the temperature measurement system in different countries (for people with different skin colors)
5. Infrared measurement: It only measures the infrared radiation signal emitted by the human body, and does not touch the human skin, which is harmless to the human body.
Specifications:
"Measurement range:
Body temperature : 32 Deg C -42.9 Deg C
Surface mode : 0 Deg -100 Deg
Accurate:
0.2 Deg in the range of 35 Deg -42 Deg C
0.3 ??? outside the range of 35 Deg C -42 Deg C
The measurement deviation is 0.3 degrees.
(Using imported infrared detection system)
Contact Us
301, Pacific Plaza, VIP Road, Kareli Bagh, Vadodara, Gujarat, 390018, India
Phone :09624419419