Industrial Paint & Powder Thickness Gauge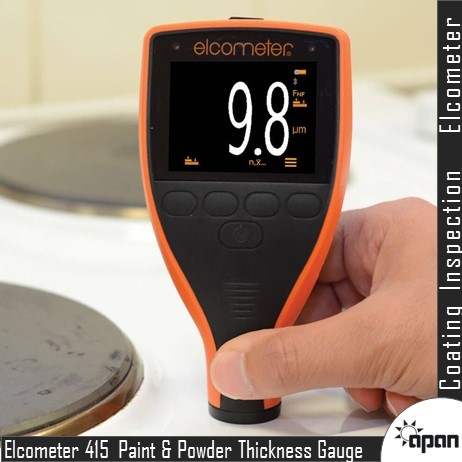 Industrial Paint & Powder Thickness Gauge
Product Description
Industrial Paint & Powder Thickness Gauge

As an Authorized dealer we are engaged in providing the broad assortment of Elcometer, UK make Dry Film Coating Thickness (DFT) gauge. NEW Elcometer 415 Industrial Paint & Powder Thickness Gauge, delivering fast and repeatable coating thickness measurements for the industrial paint & powder market. This DFT gauge automatically switches between ferrous and non-ferrous metals.
Designed to measure cured paint and powder coatings up to 1000 m (40mils), the thickness gauge is ideal for the industrial paint & powder market. With a sampling / reading rate of 60+ readings per minute, paint and powder thickness gauge allows to inspect more industrial materials in less time.
Compatible with ElcoMaster software and ElcoMaster Mobile App, individual paint and powder thickness readings can be transferred via USB or Bluetooth to PC or a mobile device for analysis and instant report generation.
Specifications :
Calibration Test Certificate
Built in probe type : Ferrous / Non-Ferrous (FNF)
On screen statistics
Number of readings, n;
Average (mean), x;
Lowest reading, Lo
Highest reading, Hi
Live data output : Bluetooth & USB
Reading rate : 60+ readings per minute
Accuracy : 1-3% or 2.5 m ( 0.1mil)
Measurement Range : 0-1000 m / 0-40mils
Operating Temperature : -10 to 50 C / 14 to 122 F
Relative Humidity (RH) : 0 to 95% (RH)
Power Supply : 2 x AA Batteries or via USB (rechargeable batteries can also be used)
Gauge Dimensions : 14.1 x 7.30 x 3.70cm / 5.55 x 2.87 x 1.46 (h x w x d)
Gauge Weight : 156g / 5.5oz (including batteries)
Additional Accessories :
Calibration Check Piece; Steel (Ferrous)
Calibration Check Piece; Aluminum (Non-Ferrous)
Foil Set; 0-1000 m (0 - 40mils)
Certified Foil Set; 0 - 1000 m (0 - 40 mils)
USB Cable
Self Adhesive Screen Protectors (Pack of 10)
Standard Compatible :
AS2331.1.4, AS/NZS 1580.108.1, ASTM B 499, ASTM D 1186, ASTM D 1400, ASTM D 7091, ASTM E 376, BS 3900-C5-6A, BS 3900-C5-6B, BS 5411-11, BS 5411-3, BS 5599, DIN 50981, DIN 50984, ECCA T1, EN 13523-1, ISO 2360, ISO 2808-12, ISO 2808-6A, ISO 2808-6B, ISO 2808-7C, ISO 2808-7D, JIS K 5600-1-7, NF T30-124
Contact Us
301, Pacific Plaza, VIP Road, Kareli Bagh, Vadodara, Gujarat, 390018, India
Phone :09624419419