Elcometer Paint Meter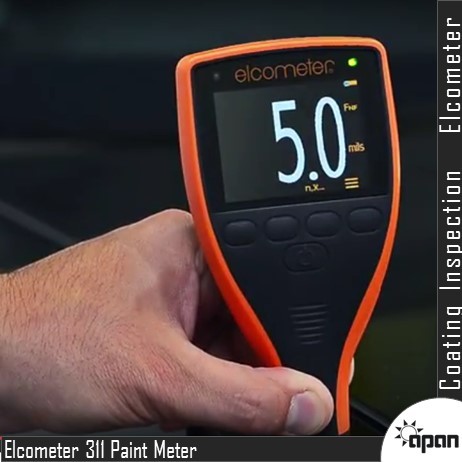 Elcometer Paint Meter
Product Description
Elcometer Paint Meter

As an Authorized dealer we are engaged in providing the broad assortment of Elcometer, UK make Dry Film Coating Thickness (DFT) gauge. New Elcometer 311 Paint Meter is the fastest paint gauge on the market today, used to instantly measure paint thickness and provide an indication of the overall condition of paint work.
With instant material recognition, Paint Meter switches between steel and aluminium panels and is ideal for use in all climatic conditions.
The Elcometer 311 Paint Meter allows the user to quickly identify Paint danmage not reported in public or commercial condition reports including:
Hidden rework
Vehicle impact damage
vehicle respray
Filled body panels
Compatible with ElcoMaster software and ElcoMaster Mobile App, individual paint thickness readings can be transferred via USB or Bluetooth to PC or a mobile device for analysis and instant report generation.
Specifications :
Calibration Test Certificate
Built in probe type : Steel (F) / Steel & Aluminium (FNF)
On screen statistics
Number of readings, n
Average (mean), x
Lowest reading, Lo
Elcometer Index Value (EIV)
Wireless Data output via Bluetooth or USB
Fast accurate reading rate : 60+ readings per minute
Accuracy : 5% or 20m (1.0mil)
Resolution : 10micron (0.5mil)
Minimum Substrate Thickness: Steel: 800m (30mils) / Aluminum: 300m (12mils) - FNF gauges only
Measurement Range : 0-500micron (0-20mils)
Operating Temperature : -10 to 50C / 14 to 122F
Relative Humidity (RH) : 0 to 95% (RH)
Power Supply : 2 x AA Batteries or via USB (rechargeable batteries can also be used)
Additional Accessories :
Calibration Check Piece; Steel (Ferrous)
Calibration Check Piece; Aluminum (Non-Ferrous)
Calibration Check Foil; Nominal value 125 m (5mils)
USB Cable
Self Adhesive Screen Protectors (Pack of 10)
Standard Compatible :
ISO 2808, ISO 2808-7C, ISO 2808-7D, ISO 2808-12A, ISO 2808-11B, ASTM E376, JIS K 5600-1-7, AS/NZS 1580.108.1
Contact Us
301, Pacific Plaza, VIP Road, Kareli Bagh, Vadodara, Gujarat, 390018, India
Phone :09624419419