Elcometer 500 Concrete Coating Thickness Gauge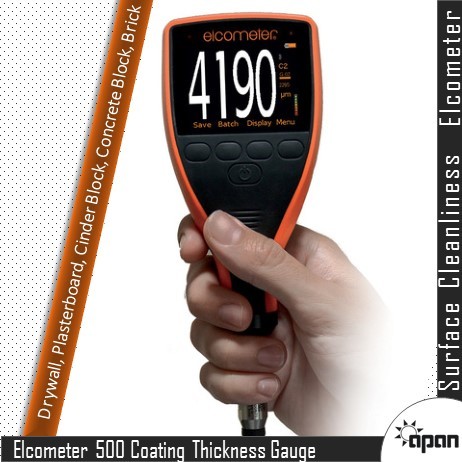 Elcometer 500 Concrete Coating Thickness Gauge
Product Description
As an Authorized dealer we are engaged in providing the broad assortment of Elcometer, UK make Civil Infrastructure process monitoring instruments.
The Elcometer 500 Coating Thickness Gauge reliably and non-destructively measures (up to 10mm) the thickness of coatings on concrete and other similar substrates like Drywall / Plasterboard, cinder block, concrete block, brick, and other cementitious substrates.
Using state of the art ultrasonic technology, the Elcometer 500 can accurately, repeatably, reliably and non-destructively measure coatings, from 150m up to 10mm (6 to 390mils) thick.
Accurately measure up to 10mm (390mils) of coatings on concrete or other similar substrates
Easy to read, user definable display with automatic screen brightness.
Store up to 100,000 readings in up to 1,000 alpha-numeric batches.
Rugged, intelligent probes - with field replaceable tips, measure up to 10mm (390mils)
C1 150 - 4,000micron (6 - 150mils)
C2 750 - 10,000 micron (32 - 390mils)
Measure more than 60 readings per minute in standard mode and over 140 readings per minute in scan mode.
Rugged, dust & waterproof design equivalent to IP54, ideal for almost all environments.
USB & Bluetooth data output to PC and Android or iOS mobile devices
Ergonomic design, ideal for continuous use.
ElcoMaster is a fast, easy to use software solution for all your data management and quality assurance needs, preparing professional inspection reports at the click of a button.
Data transferred to ElcoMaster includes:

Date and time stamped readings
Statistical values
Limit values
Readings above high limit
Run charts & histograms
Batch and gauge information
Calibration information
The Elcometer 500 is available in two models:
Model B:
Choice of calibration methods
High and low reading resolution
Rolling statistics
(Number of Readings, Mean, Lowest Reading, Highest Reading, Standard Deviation and Coefficient of Variation)
Fast reading rate: 60+ readings per minute
USB live reading data output to PC using ElcoMaster software
Model T: All the features of the Model B plus:
Full statistics
100,000 reading memory in up to 1,000 batches
Limit memories
Fast reading rate:
60+ readings per minute, standard mode
140+ readings per minute in scan mode
Run chart, bar graph and reading and differential mode with pass/fail indication
USB and Bluetooth data output to ElcoMaster and ElcoMaster Mobile Apps for iOS and Android devices