Elcometer 480 Glossmeter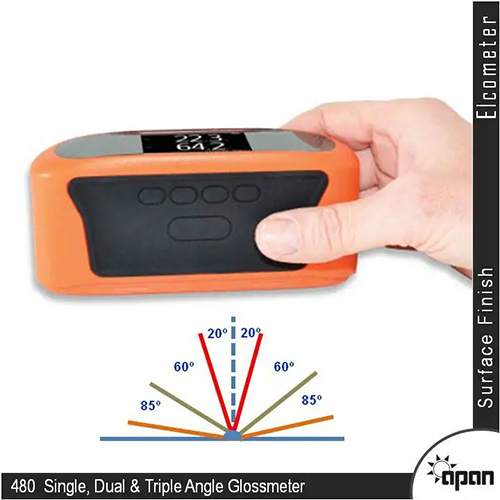 Elcometer 480 Glossmeter
Product Description
As a Authorized dealer we are engaged in providing the broad assortment of wide gamut of optical instruments.
The Elcometer 480 range are easy to use gloss meters which combine high accuracy, repeatability and reproducibility with functionality making them the most advanced gloss meters on the market today.
Small, robust & ergonomic
3 - 10 readings per second
Repeatable, reproducible & accurate
Multiple angles; 20 , 60 , 85
40,000 reading memory in up to 2,500 batches
Date and time stamped readings
USB & Bluetooth data output
PC, iPhone or Android compatible
Automatic gauge & tile diagnostics
Auto calibration tile recognition via RFID (Radio Frequency Identification; patent requested )
40 user definable limit standards
Standard, auto repeat and scan modes
Differential mode with pass/fail
Display readings, statistics, graphs & batch review
| | | | |
| --- | --- | --- | --- |
| Range | 0-10GU | 10-100GU | 100-2000GU |
| Repeatability | 0.1GU | 0.2GU | 0.2% |
| Reproducibility | 0.2GU | 0.5GU | 0.5% |
Gloss, % Reflectance or Haze measurements
Statistics
Readings and Differential with pass/fail
Trend Graph
Analogue Scan Bar
Using state of the art design and manufacturing techniques, the Elcometer 480 gloss meter provides world leading features and functionality - reliably measuring & recording Gloss, % Reflectance & Haze on any material, including paint, plastic, ceramic or metal.
The Elcometer 480's rapid LED technology accurately measures up to 3 gloss angles at the same time at a rate of 10 readings per second. Gloss measurements can be
instantly transferred from the glossmeter to PC, iPhone, Android or other mobile devices via USB or Bluetooth .
Key features of the Elcometer 480 Glossmeter include:
The Elcometer 480 Glossmeter is available as either a simple entry level 60 glossmeter or state of the art Single, Dual or Triple angle gloss meter variants.

The Elcometer 480 Glossmeter is available with (Model T) or without (Model B) memory.
The Elcometer 480 Model B gloss meter is a 60 unit, Model T glossmeters are available as single, dual or triple angle variants with %Reflectance and Haze.
Accuracy & Repeatability
Advanced electronics and a superior optical design combines highly accurate, repeatable and reproducible measurements with industry leading inter-instrument agreement - across the Elcometer 480 Glossmeter entire 0-2,000GU range.
Display Modes
Fully customisable, scratch and solvent resistant colour LCD allows the user to display: