Elcometer 407L Glossmeter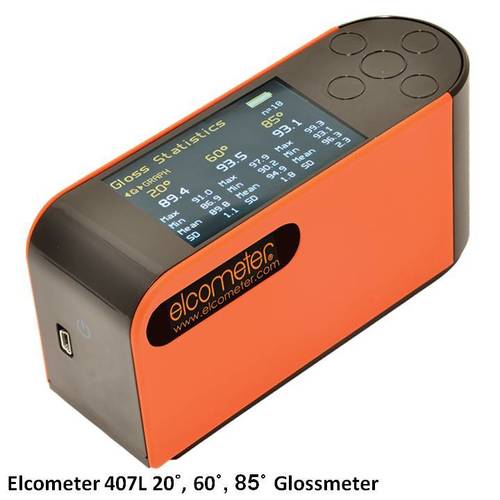 Elcometer 407L Glossmeter
Product Description
As a Authorized dealer we are engaged in providing the broad assortment of wide gamut of optical instruments.The Combining accurate gloss measurement with state of the art electronics the new Elcometer 407L Dual and Triple Angle Glossmeters have the ability to measure almost any surface finish from high gloss to matt - at different measurement angles (20, 60 and 85 degree reflective angles).

407l glossmeter

The individual gloss measurement values, together with the date and time of measurement, can be stored into the Elcometer 407L's internal memory. On board statistics provide the user with the highest, lowest, average and standard deviation for each batch of data.

User definable limits provide the User with instant feedback whether the surface finish is acceptable or should be rejected.

All Elcometer 407L glossmeters have USB and Bluetooth data output which allows readings to download to the ElcoMaster 2.0 Data Management Software (supplied with each gauge). Users can now generate instant professional gloss inspection reports, or combine gloss readings with climatic and dry film thickness measurements in one summary report.

About Gloss Measurement

The ability of a surface to reflect light without scattering is known as gloss. Gloss is measured by directing a constant intensity light beam at a fixed angle to the test surface and the subsequent amount of reflected light, at the same angle, is determined and represented by a value in GU's (gloss units).

The angle of reflectance required to measure gloss is dependant on the surface finish highly reflective surfaces typically require a low angle of reflectance (20 degrees) matt surfaces typically require high angles of reflectance (85 degrees).
Product details
| | |
| --- | --- |
| Power Source | 4 x LR6 (AA) |
| Brand | Elcometer |
| Model Name/Number | Elcometer 407 |
| Usage/Application | Industrial |
| Measuring Geometry | 20, 60 and 85 degree reflective angles |
| Memory | 200 readings |
Contact Us
301, Pacific Plaza, VIP Road, Kareli Bagh, Vadodara, Gujarat, 390018, India
Phone :09624419419