Elcometer 270 Pinhole Detector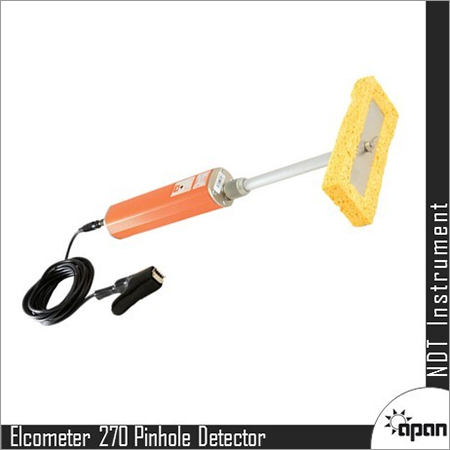 Elcometer 270 Pinhole Detector
Product Description
As an Authorized dealer we are engaged in providing the broad assortment of Elcometer, UK Pinhole & Porosity (Coating Detector/Spark Tester)
Pinholes: Caused by air entrapment which is then released from the surface, or by the entrapment of particulates (dust, sand etc.) which do not stay in place.
The Elcometer 270 Pinhole Detector utilises the wet sponge method of holiday detection. When the wand sponge is passed over a pinhole, current flows from the detector through the moisture in the hole to the substrate below and back to the detector via the signal return lead.
This current flow triggers an audible alarm and causes the alarm LED to flash.
Elcometer 270/3: 9 V and 90 V (dual voltage)
Elcometer 270/4: 9 V, 67.5 V and 90 V (triple voltage
The voltage on dual and triple voltage models can be selected by the user.
Accessories :
Automatic sensitivity calibration and voltage checks
Low battery indicator
Visual and audible alarms
Integral and separate wand functionality
A wide range of fully interchangeable wand accessories
Three model variants - single, dual or triple voltages
Easy release snag proof cables
Large standard sponge
An inspection kit for all your requirements is available.
Specification:
Voltage : 9V, 67.5V and 90V
Maximum Measurement Range : 500 m (20mils)
Sensitivity : 9V: 90k 5% , 67.5V: 125k 5% , 90V: 400k 5%
Battery Life (continuous use) : 9V: up to 200 hours, 67.5V: up to 100 hours, 90V: up to 80 hours
Battery Type : 3 x AA (LR1600) 1.5V alkaline (NiMH rechargeable batteries can also be used, battery life will be reduced by up to 75%)
Accuracy of Setting : 5%
Dimensions :
Without Wand : 210 x 42 x 37mm (8.3 x 1.7 x 1.5 ) ,
Standard Wand : 175mm (6.9 ) long (including sponge)
Flat Sponge : 175mm (6.9 ) long (including sponge)
Weight : 610g (21oz) including wand, cable and batteries
ACCESSORIES :
Standard Sponge Wand with Sponge
Rectangular Sponge Set, x 3, 150 mm x 60 mm x 25 mm (6" x 2.4" x 1") with wing nut
Roller Wand with Roller Sponge
Roller Sponge Set, x 4, 60 mm dia. x 50 mm long (2.4" x 2") with washer and clip
Bottle of Wetting Agent (Kodak Photo-flo)
Telescopic Wand - extends to 1m (39"), with Lead and Belt Clip
420 mm (16.5") Extension Piece (Extension pieces can be connected together to make longer wands.)
Handle, Lead & Belt Clip for Separate Wand using extension piece(s)
Replacement Separate Wand Lead (1.7 m/5.5 ft)
Replacement Belt Clip
10m (32.5ft) Signal Return Cable and Storage Drum
Consultant's Carry Case Accommodates detector and items
Replacement Battery Cap Assembly
Contact Us
301, Pacific Plaza, VIP Road, Kareli Bagh, Vadodara, Gujarat, 390018, India
Phone :09624419419