Economy Gloss Meter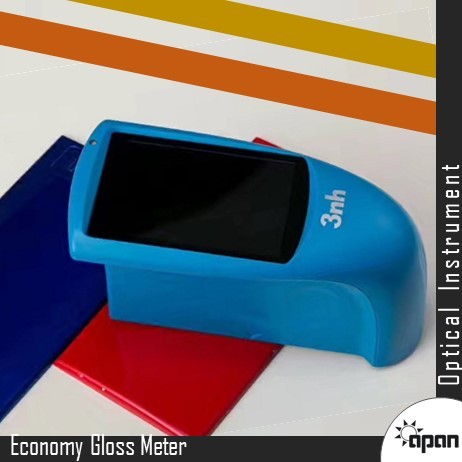 Economy Gloss Meter
Product Description
As an Authorized dealer we are engaged in providing the broad assortment of wide gamut of ColourAppearance test and measurement instruments.
Gloss meter features with 60 angle, manufactured according to ISO2813 and GB/T 9754. It is also compatible with international standards of ASTM D523, ASTM D2457. HG60S economic gloss meter conforms to JJG696 first class gloss meter working requirement, corresponding with CIE 1931(2 ) under CIE C light source.
Gloss meter is widely used to test glossiness in these industries, such as automobile, paint, ink, stoving varnish, coating, wood products; marble, granite, vitrified polished tile, pottery brick and porcelain; plastic, paper; hardware industries, etc.
Features:
60 angle for semi gloss
Concise appearance, feel good
Display 5 sets of measurement data, good for comparison
Built-in lithium ion rechargeable battery
Basic model measurement can meet basic glossiness testing requirements
One button for all angles measurement at the same location
Comply with international standards
Stable performance, easy to read data.
Specifications:
Economic Gloss Meter

Measuring Angle

60
Comply with standard ISO 2813, GB/T 9754, ASTM D 523, ASTM D 2457

Measuring Area (mm)

9x15

Measuring Range

0~200GU

Division Value

1GU

Measurement Range

Repeatability

Reproducibility

0-200GU 1GU 1GU

Measurement Standard

Conform with JJG696 first class gloss meter working requirement

Chromaticity Corresponding

Corresponding with CIE 1931(2)

under CIE C light source

Errors

1.5 , 1.5%

Measuring Time

0.5s

Dimension

L*W*H : 160mm*75mm*90mm

Weight

350g

Battery

3200mAh Li-ion Battery,

>10000 times(within 8 hours)

Display

TFT 3.5 inch

Interface

USB/RS-232

Storage

Basic mode: 1000

Software

/

Operation Temperature

0~40 Deg.C,32~104

Storage Temperature

-20~50Deg.C,-4~122Deg.C

Humidity

<85% relative humidity, no condensation

Standard Accessories

Power Adapter, USB cable,

User Manual, Calibration Plate

Optional Accessories

Miniature Printer

Note

The specifications are subject to change without notice.

LCD Screen: Display measuring data and instrument operation navigation.
Switch/Measure button: Long-press the button 3 seconds to turn on or turn off the gloss meter. Short press the button is to measure.
Indicator Light: When turning on, it will show green light. After startup, the light is off. Low power and charging status will show red light. Fully charged will show green light.
RS-232/USB interface: This interface is a common interface. The instrument automatically judges the connection status. USB interface is used to connect transfer data to PC. RS-232 interface is used to connect to the printer. USB cable can connect power adapter and computer for charging the gloss meter (specification for external adapter is: 5V=2A).
Protective Cover (Calibration plate): It is to protective the measuring aperture. Built-in calibration plate is used for instrument calibrating. Attention: The method to separate the protective cover from the instrument is shown in figure 2. Hold the instrument with one hand, the other hand hold the protective cover, and then separate it according to the Open mark. You only need to separate it from one side. Do not separate it from two sides.