Digital Shore Durometer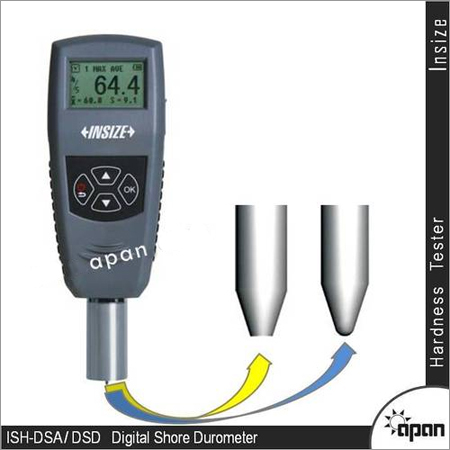 Digital Shore Durometer
Product Description
Digital Shore Durometer for testing the hardness of rubbers, elastomers and plastics. Available in Shore A for softer rubbers and Shore D for harder plastics, resins etc.
Digital Durometers are designed for easy use to test most soft rubbers and elastomers, through to hard plastics and resins.
Common applications are for quality control purposes and include testing the hardness of skateboard wheels, car tyres, shoe soles, gummy bears and cheeses to name just a few. A durometer measures the resistance to an indentation that is made with a specific indenter and spring loading according to specific test standards such as ASTM D 2240. When measuring for QC, a durometer is used to measure for consistency in a product and that it meets internal specification requirements.
The unit is fully integrated to be simply used with one hand operation and shows live statistics on its screen. Including the current hardness result, minimum, maximum, average values and standard deviation.
To use the DSD you press the device onto the surface of the object under evaluation, and based on the resistance to the spring loading it displays a reading on the screen in the shore scale relevant to the device that you have. The most common scales are Shore A for soft rubbers and Shore D for harder plastics. There are other specialised scales available which we can assist with.
FEATURES:
Live statistics - average, min, max, standard deviation
Instant printing of results to wireless, mini printer (optional extra)
Easy saving of test data to large internal memory (500 readings)
Ultra compact, lightweight and ergonomic for easy use
Mountable in test stand for controlled load application and dwell time (optional extra)
Rechargable internal battery
The standard kit includes the unit, power adapter, calibration control ring and factory calibration certificate. Optional extras are reference test blocks, wireless printer and test stand.
Specification
Scale

Shore A

Shore D

Accuracy

1 HA / HD

Resolution

0.1 HA / HD

Display

LCD (backlit)

Memory

500 readings

Power

Ni-MH internal, rechargable

Data Output

2.4G wireless printer (Optional)

Dimensions

150mm x 50.5mm x 29mm

Weight

170g
Contact Us
301, Pacific Plaza, VIP Road, Kareli Bagh, Vadodara, Gujarat, 390018, India
Phone :09624419419