Digital Hygrometer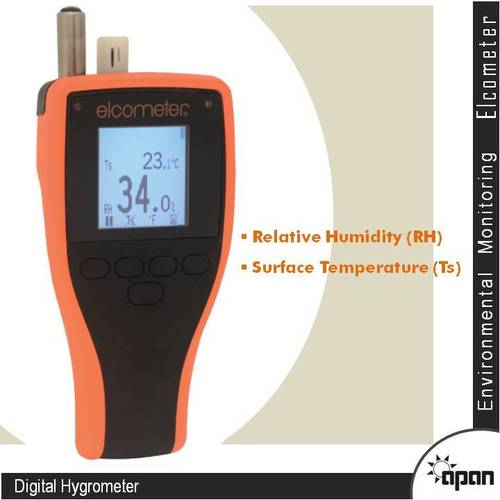 Digital Hygrometer
Product Description
The Elcometer 308 Digital Hygrometer provides a simple and fast measurement of relative humidity (RH) and surface temperature (Ts) and is ideal for use in very hot climates. This Digital Hygrometer has been specifically designed for use in very hot climates where the surface temperature of the substrate can exceed the paint manufacturers recommended limits for successful painting. Painting outside recommended limits can have a detrimental affect on the performance and lifetime of the coating.

Rugged design: Suitable for use in extreme environments the Elcometer 308 Hygrometer is dustproof and waterproof with fully sealed sensors.
Measurement Hold / Release function: With a single button press readings are held on the screen. These can then be recorded before simply pressing the button again to release the screen and continue to take further readings as necessary.
Backlight: Bright screen making information easy to read ideal in dark or confined spaces.
Specification
Operating Range : -20C to +80C (-4 F to +176F)
Surface Temperature (TS) : -20C to +80C (-4 F to +176F)
Relative Humidity (RH) & Accuracy :0% to 100% RH (3%)
Resolution : 0.1C (0.1F) / 0.1
Power Supply : 2 x AA batteries or via USB Cable
Battery Life :Greater than 40 hours (Backlight off
Dimensions : 180 x 75 x 35mm (7 x 3 x 1.4)
Weight : 300g (10.6oz)
Packing List
Elcometer 308 Hygrometer, wrist strap,
2 x AA batteries,
protective pouch with belt clip,
RH & surface probe calibration certificate
operating instructions