Cross Hatch Adhesion Test Tape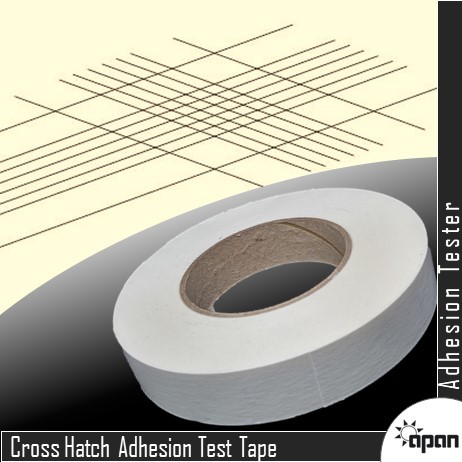 Cross Hatch Adhesion Test Tape
Product Description
As a Authorized dealer we are engaged in providing the broad assortment of Coating Inspection Equipments.
A crosshatch pattern is made through the film to the substrate. Detached flakes of coating are removed by brushing with a soft brush. Pressure-sensitive tape is put over the crosshatch cut. Tape is smoothed into place by using a pencil eraser over the area of the incisions. Tape is removed by pulling it off rapidly back over itself. Adhesion is assessed on a 0 to 5 scale. [0- Greater than 65% area removed & 5 is 0% area removed]
It is designed as a replacement for Permacel P-99 tape. It will be use with used in conjunction
with ASTM D 3359: Standard Test Methods for Measuring Adhesion by Tape Test.
FEATURES AND BENEFITS
Excellent quick-stick and high-hold characteristics
Moisture and abrasion resistant
It will not conceal surface cross hatch test patterns when burnished
Adhesive will not delaminate from the backing material when the tape is removed from a surface.
Adhesion tape compliance to ISO 2409 is also available.
Specification
Description

Cutter Type

Coating Thickness

Certificate

Elcometer 1542 Basic Kit

6 x 1mm

0 - 60m

0 - 2.4mils

Elcometer 1542 Basic Kit

6 x 2mm

50 -125m

2 - 5.0mils

Elcometer 1542 Basic Kit

6 x 3mm

121 - 250m

4.8 - 9.8mils

Elcometer 1542 Full Kit - ISO Tape

6 x 1mm

0 - 60m

0 - 2.0mils

Elcometer 1542 Full Kit - ISO Tape

6 x 2mm

50 -125m

0 - 2.0mils

Elcometer 1542 Full Kit - ISO Tape

6 x 3mm

121 - 250m

4.8 - 9.8mils

Elcometer 1542 Full Kit - ASTM Tape

6 x 1mm

0 - 60m

0 - 2.4mils

Elcometer 1542 Full Kit - ASTM Tape

6 x 2mm

50 - 125m

2 - 5.0mils

Elcometer 1542 Advanced Kit - ISO Tape

6 x 1, 2, 3mm

0 - 250m

0 - 9.8mils

Elcometer 1542 Advanced Kit - ASTM Tape

6 x 1, 2, 3mm

0 - 250m

0 - 9.8mils
Contact Us
301, Pacific Plaza, VIP Road, Kareli Bagh, Vadodara, Gujarat, 390018, India
Phone :09624419419