Corrosion Thickness Gauge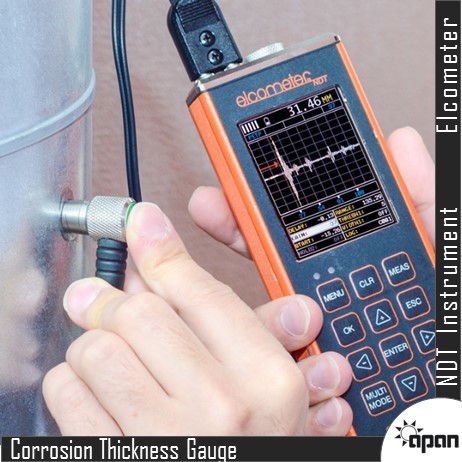 Corrosion Thickness Gauge
Product Description
As an Authorized dealer we are engaged in providing the broad assortment of "NDT Instrument" for various applications.
The CG100 series are corrosion gauges that measure with extreme versatility. They have the ability to measure coatings and material thickness simultaneously while maintaining the ability to locate pits, flaws and defects in the material. Based on the same operating principles as SONAR, the CG100 Series have the capability of measuring the thickness of various materials with accuracy as high as +/- 1% or +/- 0.1 millimetres (+/- 0.005 inches) whichever is the greater. The principal advantage of ultrasonic measurement over traditional methods is that ultrasonic measurements can be performed with access to only one side of the material being measured.
The CG100 series also include a data-logging (memory) facility which allows readings to be stored in batches before being downloaded to a computer. Gauge can be used in accordance with the following Standards and test methods; ASTM E 797, EN 14127 and EN 15317.
Wide range of measurement modes

Automatic: probe zero, probe recognition, and temperature compensation.

Adjustable gain settings.

Stores up to 64 custom setups for specific applications.

High speed scan mode of up to 50 readings per second.

Audible/visual alarm with high and low limit settings

Differential mode for QC inspections.

RF and RECT A-Scan displays (CG100ABDL gauges only).

Time based B-Scan display.

Measurement data storage formats: Alpha numeric grid and sequential. Data can be downloaded to a computer for analysis and storage.
Repeatability / Stability Indicator

Consisting of 6 vertical bars, when all the bars are fully illuminated and the last digit on the digital thickness value is stable, the gauge is reliably measuring the material thickness.
High Speed Scan with Minimum Thickness Display

By significantly increasing the measurement refresh rate this mode allows the user to make scanned passes over the test material. The smallest thickness value is held in memory and displayed when scanning is complete. This feature can also be used in conjunction with the minimum & maximum limit alarm feature (model dependant).
Differential Mode

Once a user defined nominal thickness value has been set, the gauge will display the +/- thickness difference from the nominal value entered.
Limit Alarm Mode

The user can define minimum and maximum thickness limits. If the measurement falls outside the upper or lower limit a red LED will light and the beeper sounds. A green LED will light to indicate an acceptable thickness.
V-Path Correction
Dual element transducers consist of a probe with two crystals (one to transmit and one to receive the sound pulse). The crystals are separated by an acoustic barrier - generating a 'V-shaped' sound path as the sound travels from one element to the other.
This path is slightly longer than the direct path therefore V-path correction is used to calculate the correct thickness.
Contact Us
301, Pacific Plaza, VIP Road, Kareli Bagh, Vadodara, Gujarat, 390018, India
Phone :09624419419