Conical Mandrel Bend Tester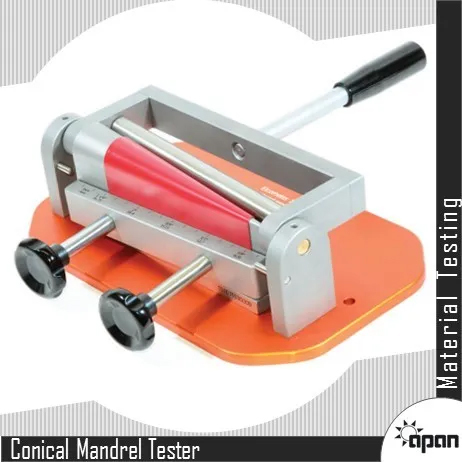 Conical Mandrel Bend Tester
Product Description
As a Authorized dealer we are engaged in providing the broad assortment of "Elasticity and Deformation Tester" including
Mandrel Bend Tester, Impact Tester, Cupping Tester.
The Elcometer 1510 Conical Mandrel Bend Tester is used to determine the effects of bending on the elasticity, adhesion and elongation properties of cured coatings on sheet metal.
The frame has a bending lever with a roller which pivots on a steel conical mandrel with a diameter from 3.2 - 38.1mm (0.12 - 1.5 ). A graduation indicates the mandrel diameter in both mm and inches.
Specimens should be prepared according to the requirements of the test standard. Specimens should be flat, free from distortion and the coated surface should not contain any visible cracks.
The specimen can be bent on part of, or along, the entire length of the mandrel, and the results (cracks) corresponding to different test diameters can be observed in a single operation. This is ideal for use in conjunction with the cylindrical mandrel, as it identifies the stop point for more focused testing.
As the instrument is machined out of a solid block of steel, the particularly robust and rigid construction provides excellent resistance to wear and provides long service life. A large, sturdy anodised base, which can be permanently fixed to a workstation, ensures stability during testing.
Specification

Diameter Range :
3.2 - 38.1mm
3.2 - 38.1mm
Sample Size : 180 x 100 x 0.8mm
Dimensions :325 x 350 x100mm
Weight : 9kg (20lb)
Users of the Conical Mandrel Bend Tester may also benefit from the following products:

Elcometer 1506 Cylindrical Mandrel Bend Tester
Elcometer 1615 Variable Impact Tester
Elcometer 1620 Cupping Tester
Elcometer 1542 Cross Cut Adhesion Tester