Concrete Test Hammer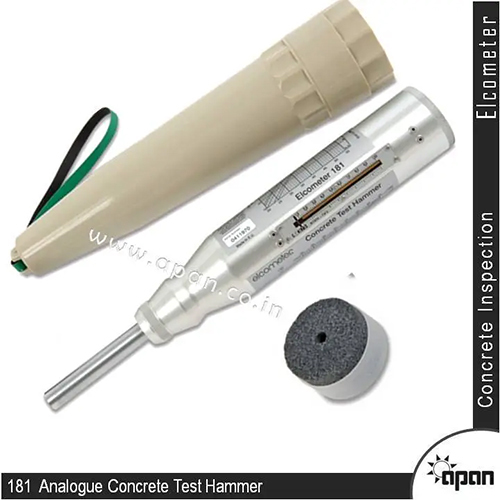 Concrete Test Hammer
Product Description
As a Authorized dealer we are engaged in providing the broad assortment of Elcometer, UK make 'Concrete Inspection' Equipments.
Concrete Inspection

Concrete structures are normally constructed using steel reinforcement and Elcometer offers Concrete Covermeters and Rebar Locators to either measure the depth of concrete over the rebar or simply to detect the rebar under the surface. Half-cell versions of the Covermeter can be used to assess the probability that corrosion is taking place on the rebar. Test Hammers are used to assess the surface hardness of cured concrete and Elcometer offers several moisture meters that can be used to determine if the structure is sufficiently dry for coating.

Adhesion testers for coating on concrete are available using either hand-operated mechanical methods or the automatic hydraulic method.
Test hammers are used to determine the surface hardness of concrete and are one of the most widely used instruments to assess concrete compressive strength. It is the quickest, simplest and least expensive method to obtain an estimate of the quality and strength of the concrete. Test Hammers with both analogue and digital displays are available.

Test hammers are used to determine the surface hardness of concrete and are one of the most widely used instruments to assess concrete compressive strength. It is the quickest, simplest and least expensive method to obtain an estimate of the quality and strength of the concrete. Test Hammers with both analogue and digital displays are available.

Elcometer Concrete Test Hammer provides a quick, simple and inexpensive method for non-destructive evaluation of concrete compression strength and other masonry materials.

Accuracy

Better than +/- 2 Rebound Number (When tested on Calibration Anvil at 80)
Specification
Accuracy

Better than +/- 2 Rebound Number (When tested on Calibration Anvil at 80)

Resolution

2 Rebound Number(s)

Range

10 to 100 Rebound Number(s)

Dimensions

Hammer: 280mm (11.02") length x 55mm (2.17") diameter

In Case: 350mm (13.78") length x 80mm (3.15") diameter

Weight

1.5kg (3.3lbs) with case