Colour Assessment Cabinet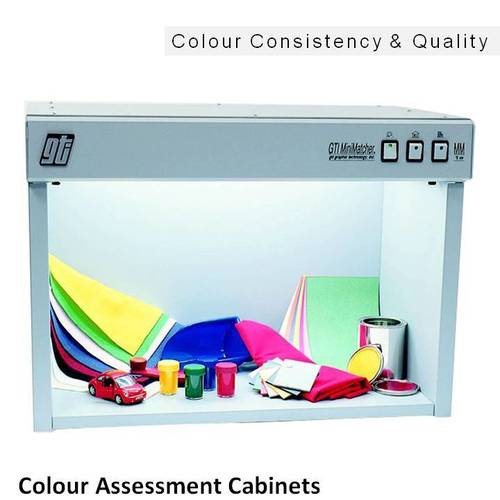 Colour Assessment Cabinet
Product Description
As a Authorized dealer we are engaged in providing the broad assortment of wide gamut of optical instruments for Optical Instruments
Colour assessment cabinets are suitable for any industry where there is a need to maintain colour consistency and quality.

These include paint, textiles, automotive, ceramics, cosmetics, dyeing, food, footwear, inks, knitwear, packaging, printing, etc.

The Elcometer 6300 range of colour assessment cabinets, also known as light cabinets or colour matching booths, ensures accurate visual colour assessment and colour comparison. Constructed from steel, Elcometer's lightweight colour assessment cabinets are supplied with different light sources used to simulate different conditions.

Light sources available:

Artificial Daylight (D65)
Point of Sale Illuminant (TL84 supplied with UK 240V/EUR 220V models, CWF supplied with US 110V models)
Home Illuminant (Illuminant A)
Ultraviolet Illuminant (UV)
Alternative Point of Sale Illuminant (TL83 emits a reddish, yellow energy)

The Elcometer 6300 Colour Assessment Cabinets also enable easy detection of metamerism. Metamerism is commonly discussed in the terms of illuminants, where two samples appear the same (spectrally matched) under one illuminant, but not another. For example, two car door panels appear the same colour in daylight, but, under a streetlight at night, appear as completely different colours.

There is a choice of 3, 4 or 5 light sources with the Elcometer 6300 range. Cabinets are either available with manual light source selection or digital light source selection. The digital cabinets are able to programme the sequence of lights and the duration of each illumination. The lamp timer function, which is standard on all digital cabinets and as an option on manual cabinets, measures the number of hours the D65 daylight bulb has been in operation.

The Elcometer 6300 range is available with a choice of 3, 4 or 5 light source cabinets, in a range of sizes and functionality to suit your particular requirements. Lamp Kits are available for each Colour Assessment Cabinet.
Contact Us
301, Pacific Plaza, VIP Road, Kareli Bagh, Vadodara, Gujarat, 390018, India
Phone :09624419419