Color spectrophotometer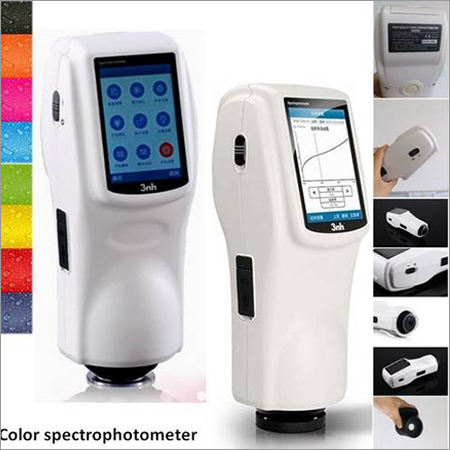 Color spectrophotometer
Product Description
As a Authorized dealer we are engaged in providing the broad assortment of wide gamut of optical instruments.It is
portable spectrophotometer uses d/8 structure.It features with high accuracy DeltaE*ab 0.04, and 8mm aperture makes measurement so easy. With software, you can do better color control management. Plus, it is widely used in plastic, electronic, paint, ink, textile, garment, printing and dyeing, food, medical, cosmetic, industries, scientific research institutes, schools and laboratories.
Features:
Display complete reflectance rate and input LAB value manually.
D/8 structure (diffuse illumination, 8 viewing )
3.5 inch large capacitive touch screen, fully functional touch control.
2/10 degree observe, multiple lights, many color systems.
The repeatability*ab is within 0.04, errors is less than 0.2
Large capacity storage, more than 15000 data.
PC software with powerful extension functions.
15 oblique angle screen, in line with the human eye observation.
Oversized integrating sphere, more effective homogenization ray of lights.
High hardware configuration with a number of innovative technologies.
Specification
llumination/observation system

d/8 (diffused illumination, 8-degree viewing angle) Conforms to CIE No.15, GB/T 3978.

Integrating sphere Size

58mm

Light Source

Combined LED sources

Sensor

Silicon photodiode array

Wavelength range

400~700nm

Wavelength pitch

10nm

Reflectance range

0~200%

Measuring Aperture

8mm

Color Space

CIE LAB, XYZ, Yxy, LCh, CIE LUV,LAB&WI&YI

Color difference Formula

E*ab,E*uv,E*94,E*cmc(2:1),E*cmc(1:1),E*cmc(l:c),CIE2000E*00,E(h)

Other Chromaticity Data

WI(ASTM E313,CIE/ISO,AATCC, Hunter),

YI(ASTM D1925,ASTM 313),

Metamerism Index (Mt), Color Strength

Color Stain, Color Fastness

Observer

2 /10

Illuminant

D65,D50,A,C,D55,D75,F1,F2,F3,F4,F5,F6,F7,F8,F9,F10,F11,F12

Display Data

Spectral Value/Graph, Colorimetric Value, Color Difference Value/Graph, PASS/FAIL Result, Color Offset, Color Simulation, color index setting( *94, *cmc, E2000), tolerance prompt, reverse prompt, time setting, language setting, restore factory setting

Measurement Time

1.5s

Repeatability

Spectral Reflectance: standard deviation within 0.1%(400~700nm: within 0.2%)
Colorimetric Value: Standard deviation within DeltaE*ab 0.04 (Measurement conditions: white calibration plate measured 30 times at 5 seconds intervals after white calibration was performed.)

Inter Instrument Agreement

Within DeltaE*ab 0.2 (Average for 12 BCRA Series II color tiles)




Battery

Li-ion battery. 2800 times within 8 hours.

Lamp Life

5 years, more than 1.6 million measurements

Display Screen

TFT 3.5inch, Capacitive Touch Screen

Interface

USB/RS-232

Data Memory

1000 Standards, 15000 Samples