Climate Monitoring System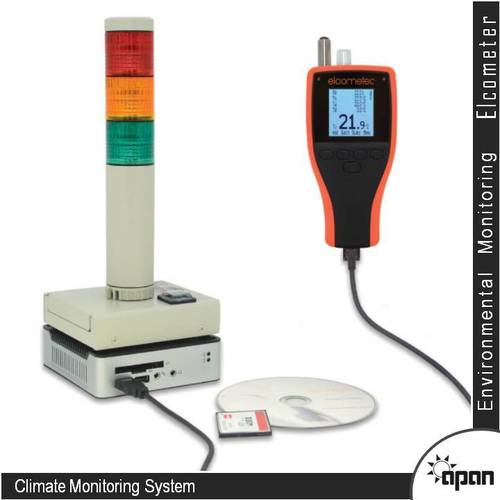 Climate Monitoring System
Product Description
As a Authorized dealer we are engaged in providing the broad assortment of wide gamut of Environmental Monitoring Instruments.
The Elcometer 320 is a powerful system which accurately and remotely monitors climatic parameters, such as relative humidity, surface temperature and Delta T temperature.

Each red, yellow, green signal tower has an integrated alarm providing both visual and audible warnings
Remotely monitor and record climatic parameters:

Relative humidity
Ambient air temperature
Surface temperature
Specific humidity
T (the difference between surface temperature and dewpoint)
The Elcometer 320 can also be used as a stand alone environmental warning station - ideal for single zone monitoring
Up to 254 monitoring stations can be set up remotely either by Bluetooth or over an Ethernet TCP/IP connection
The Elcometer 319 is connected to a signal tower and alarm via an embedded PC which is connected to the control and monitoring computers via standard Ethernet TCP/IP or by Bluetooth for remote monitoring.
Through the simple use of the internationally recognised red, yellow, green traffic light sequence, ElcoMonitor allows Quality Managers to see, at a glance, the environmental conditions of up to 254 locations from the comfort of their office chair.
ElcoMonitor software incorporates Set Up Wizards which guide the User through the initial set up of each Elcometer 320 Monitoring Station. Once a station has been assembled and switched on, ElcoMonitor searches for all the active monitoring stations.

Each station can be set up remotely using ElcoMonitor Software. Station set ups include:
Which two climate parameters to be used for each station
User definable red, yellow and green warning limits
Flashing red light additional warning parameter
Data recording frequency
Warning buzzer alarm duration
Username and passwords are used to ensure that only approved administrators can amend the set up of each station.
All measurement values (RH, SH, Ta, Ts, T) from each station are transmitted back to ElcoMonitor allowing remote investigation of all the environmental conditions.
Individual reports for each monitoring station can be generated from within ElcoMonitor or archived in spreadsheet form for further analysis.
Contact Us
301, Pacific Plaza, VIP Road, Kareli Bagh, Vadodara, Gujarat, 390018, India
Phone :09624419419