Bridge Cam Gauge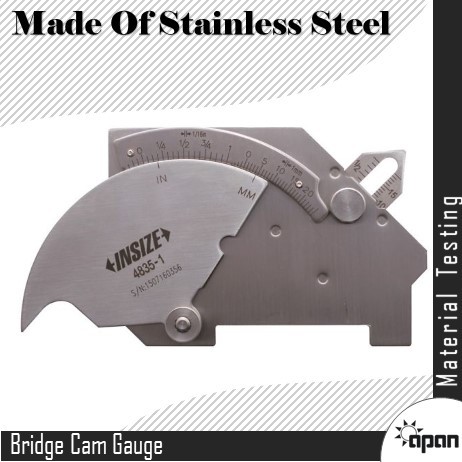 Bridge Cam Gauge
Product Description
The material of the gauge is high strength stainless steel, then the ruler is not easy to bend and wear, never rust and it also ensure accurate measurement. Weld inspection ruler with fastening screws can be fixed at any point, then it is convenient for reading when you do the measurement the ruler surface is mechanical grinding, no glitches.
An essential tool for rapidly checking the dimensions of weld preparations, butt welds and fillet welds -
angle of preparation
misalignment
fillet weld leg length/excess weld metal
fillet weld throat
undercut
Used across the world by welding engineers, inspectors, NDT operators, quality control staff and welders.
Adjustable scale to compensate pointer wear

Made of stainless steel
Used for measurement: Crown height, fillet weld leg height, misalignment (high-low), undercut depth, fillet weld throat size, angle of preparation, length.

This tough, easy-to-use gauge is made from stainless steel throughout and finished to a high standard. Its parallax-free scales are conveniently graduated in metric and imperial units.
Ideal for general fabrication work in the shop or on-site, it helps you achieve the correct weld profile, reduce the risk of product failures, increase productivity and prevent materials wastage.
Specification
| | |
| --- | --- |
| Angle of Preparation Scale | 0 - 60 in 5 divisions |
| Misalignment Scale | 0 - 25mm in 1mm divisions and 0 - 1 in 1/16 divisions |
| Fillet Leg & Excess Weld Scale | 0 - 25mm in 1mm divisions and 0 - 1 in 1/16 divisions |
| Fillet Throat Scale | 0 - 20mm in 1mm divisions and 0 - 3/4 in 1/16 divisions |
| Undercut Scale | 0 - 4mm in 1mm divisions and 0 - 1/4 in 1/16 divisions |
| Dimensions | 100 x 68mm (3.9 x 2.7) |
| Weight | 154g (5.4oz) |
| Packing List | Elcometer 147 Weld Gauge and instruction card |
| | |
| --- | --- |
| Fillet Leg & Excess Weld Scale | 0 - 25mm in 1mm divisions and 0 - 1" in 1/16" divisions |
| Measuring Range | Angle of Preparation Scale 0 - 60 Degree in 5 Degree divisions |
| Brand | Elcometer |
| Model Name/Number | Elcometer 147 Weld Gauge |
| Undercut Scale | 0 - 4mm in 1mm divisions and 0 - 1/4" in 1/16" divisions |
| Misalignment Scale | 0 - 25mm in 1mm divisions and 0 - 1" in 1/16" divisions |
| Fillet Throat Scale | 0 - 20mm in 1mm divisions and 0 - 3/4" in 1/16" divisions |
Contact Us
301, Pacific Plaza, VIP Road, Kareli Bagh, Vadodara, Gujarat, 390018, India
Phone :09624419419