Bolt Tension Monitors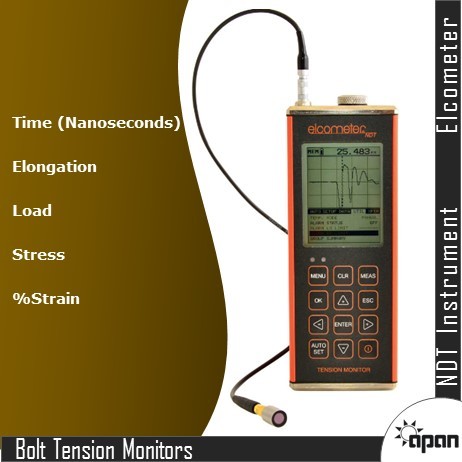 Bolt Tension Monitors
Product Description
As a Authorized dealer we are engaged in providing the broad assortment of "NDT Instrument" for various applications.
The Models BG80TD & BG80TDL are tension monitors that measure the change in length of a fastener when a load is put to the fastener. Within the elastic limit of the fastener, the change of length is proportional to the load given, and therefore by measuring the change of length and knowing the physical properties of the fastener, the load on the fastener can be calculated. Based on the same operating principles as SONAR, the Models BG80TD & BG80TDL are capable of measuring the length of fasteners of various materials with accuracy as high as 0.0001 millimetres (0.00001 inches). Your gauge can measure time, elongation, load, stress or %strain in fasteners of virtually any material from 25.4 mm to 1220mm in length. By storing the reference waveform and displaying it for comparison while the elongation is being measured, the gauge minimises operator training. The Models BG80TD & BG80TDL include a data-logging (memory) facility which allows readings to be stored in groups before being downloaded to a computer.
Your gauge can be used in accordance with the following Standards and test methods; ASTM E 797, EN 14127 and EN 15317.
FEATURES :
Measurement quantities: Time (nanoseconds), Elongation, Load, Stress, and % Strain.
Display Options: RF, RECTified, Large DIGITS with Limits Bar.
Display Resolution 1/8 VGA 240 x 160 pixels.
Stores 8000 readings and waveforms in multiple groups.
Built-in Linear regression or vector for optimising load measurements.
Auto Set function which automatically optimises detection and adjusts display.
Hi/Lo alarm tolerance limits work in conjunction with the data port and external pump shut-off device.
Alpha numeric measurement data storage. Data can be downloaded to a computer for analysis and storage.
How does it work ?
As a fastener is tightened it stretches (elongates) in length.
Manual torque wrenches measure the force given when tightening a fastener, the accuracy can be affected by temperature, friction and resistance.
As BG80 & BG80TDL ultrasonically measures the change in length accurately determining the given load of a fastener as it is tightened, they are not affected by these factors.
Specification
Model & Part Number

BG80DL & BG80TDL

Material thickness digits display

YES

Measurement Mode1

PE & PE with Gate

Measurement Rate:
Manual:


4 readings per second

Measuring Range2

25.4 2440mm (1 96 inches)

Measurement Accuracy2

1% or 0.1mm whichever is the greater

Measurement Resolution

0.0001mm (0.00001 inch)

Velocity Calibration Range

1250 - 10,000m/s
0.0492 - 0.3937in
Additional Features:

Limit alarm mode




Data logging

8,000 readings

Calibration Options

fixed, single & 2 point

Transducer Probe Type

single element

Transducer Frequency Range

1 - 10MHz

Display

1/8 VGA

Units (selectable)

mm or inches

LED Backlight

on / off / auto

Repeatability / Stability Indicator

yes

Battery Type

3 x AA alkaline

Battery Life (approximate)

150 hours

Low Battery Indicator

YES

Battery Save Mode

auto

Operating Temperature

-10 to 60(14 to 140F)

Size (w x h x d)

63.5 x 165 x 31.5mm

2.5 x 6.5 x 1.24 inches

Weight (including batteries)

383g (13.5oz)