Banana Gauge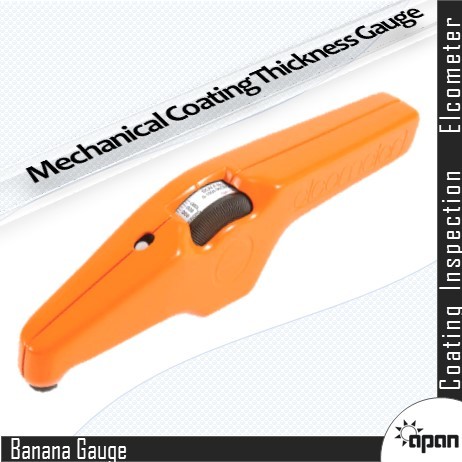 Banana Gauge
Product Description
The Elcometer 211 Coating Thickness Gauge measures non-magnetic coatings, including paint, hard chrome, electroplating, galvanising, powder coating, plastic, epoxy and rubber applied to a ferromagnetic base.
The traditional type banana gauge offered a display of the measurement in analog format which always required a certain amount of interpretation from the user, as this instrument has a digital indication this interpretation is no longer required turning the gauge into a very powerful measurement tool.
How to Measure Coating Thickness :
Place the end and middle of gauge on test surface. Rotate the thumb wheel forward until the magnet makes contact with the surface and the indication on the scale is above the estimated coating thickness, otherwise to maximum.
Rotate the thumbwheel back until magnet is released from surface, the indicator pops up and click is heard.
Stop turning immediately. Repeat to confirm the reading.
Lift the gauge and read the thickness value on the scale in line with the pointer.
This is one of the most popular mechanical coating thickness gauges in the world.
Factory calibrated - with user calibration adjustment
Foils supplied to check calibration on site
Ideal for cold surfaces and underwater use
Small and portable with an accuracy 5%
The V grooved base, ideal for pipeline inspection
PRODUCT RANGE :
Elcometer 211 Coating Thickness Gauge / Banana Gauge : 0 - 1000m
Elcometer 211 Coating Thickness Gauge / Banana Gauge : 0.65 - 6mm
Elcometer 211 Coating Thickness Gauge / Banana Gauge : 0 - 40mils
Elcometer 211 Coating Thickness Gauge / Banana Gauge : 25 - 250mils
Specification
| | |
| --- | --- |
| Edge Effects | Must be at least 6mm (0.24") from edge |
| Brand | Elcometer |
| Measuring Range | 0 - 6000 micron |
| Accuracy | +-5% of the reading or +-2.5 micron 0.1mil |
| Display | Analog |
| Display Type | Metric or Imperial |
| Type | Mechanical Coating Thickness Gauge |
| Model Name/Number | Elcometer 211 Banana Gauge |
| Length | 200 x 60 x 30mm (7.8 x 2.4 x 1.2") |
| Substrate Thickness | 0.4mm (16mils) minimum |
| STANDARDS: | AS 2331.1.3, AS 3894.3-A, ASTM G 12, ASTM B 499, AS/NZS 1580.108.1, BS 5411-11, BS 3900-C5-6A |
| Measurement Area | 30mm (1.18") Diameter minimum |
Contact Us
301, Pacific Plaza, VIP Road, Kareli Bagh, Vadodara, Gujarat, 390018, India
Phone :09624419419