Analog Coating Thickness Meter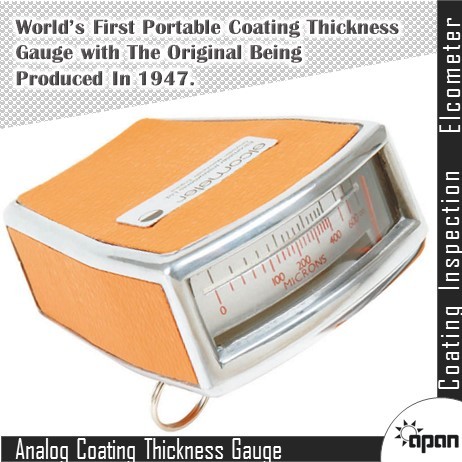 Analog Coating Thickness Meter
Product Description
As a Authorized dealer we are engaged in providing the broad assortment of Elcometer, UK make Dry Film Coating Thickness (DFT) gauge.
Mechanical Coating Thickness Gauges are suitable for working in high risk areas such as high temperature or flammable atmospheres, underwater or where the risk of explosion is high and could be triggered by the use of an electronic instrument.
From the simplest coating thickness gauge Elcometer 101 which will provide you with quick and immediate results to the more accurate coating thickness gauge Elcometer 211, also called the "banana gauge" which is ideal for cold and underwater surfaces.
Elcometer 101 was the world first portable coating thickness gauge with the original being produced in 1947. It is a mechanical coating thickness gauge for measuring nonferrous coatings or sheets to or laid on a ferrous magnetic base.
Specification :

Range :

0 - 600m (0-25mils)

Operating Plane :

90 to substrate

Minimum Measurement Area :

38 x 15mm (1.5 x 0.6)

Minimum Measurement Diameter :

25mm (1) (on bar material)

Accuracy :

10% of the reading or 2.5m (0.1mil) which ever is the greater
Features :

Insensitive to hot and cold surfaces - ideal for measuring coating thickness on hot sprayed metal coatings
Incorporates reading hold feature
Accuracy of 10%
Ideal for hazardous areas

How to use it :
Hold the Elcometer 101 Coating Thickness Gauge at right angles to the surface to be measured, place the two contacts on the surface and push down the small button to release the pointer. When the pointer comes to rest, it will indicate the thickness of the coating. Readings can be speeded up by using the push button as a brake by pumping it in and out until the pointer comes to rest. If the component has become magnetized take an average of two readings through 180 at the same point.
Contact Us
301, Pacific Plaza, VIP Road, Kareli Bagh, Vadodara, Gujarat, 390018, India
Phone :09624419419