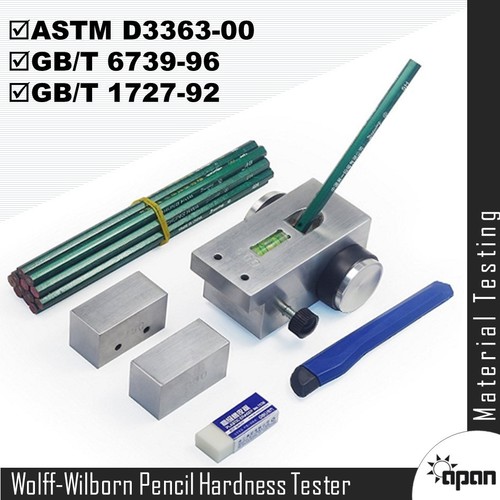 Product Description
As a Authorized dealer we are engaged in providing the broad assortment of Hardness Tester for wide range of material Testing applications.

Coating hardness is the necessary measurement for the performance of coatings.
This instrument applied the Pencil Scratch Method.It is a fast and economical wayto determine the film hardness using the drawing lead core or the pencil core.

The pencil scratch method for coating hardness testing is a common methodin the world since the 1980s.
Principle

The instrument applies mechanical measurement. Keep three point touch thecoating (two wheel, a pencil core), and a 45 degree angle between pencil andtest surface. Push the instrument sliding, pencil draws the corresponding trackin the coating. In the change of different pencil marks, the hardness value ofthe film can be determined.

Â
Standards
§ Â§ Â§Â
Contact Us
301, Pacific Plaza, VIP Road, Kareli Baugh, Vadodara, Gujarat, 390018, India