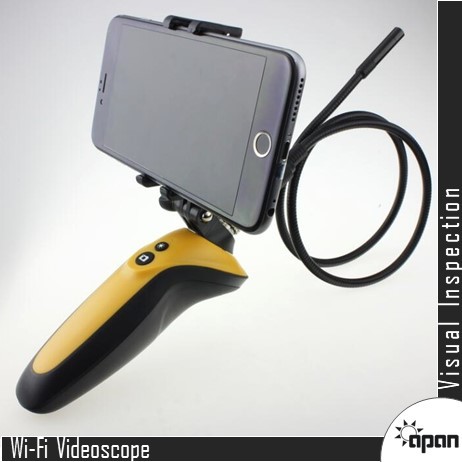 Product Description
Wireless Videoscope

As a Authorized dealer we are engaged in providing the broad assortment of Vision Inspection instruments.

This handheld high definition wireless / WiFi inspection camera makes use of optoelectronic technology to detect hard-to-reach area with high quality images compared to traditional models. This new models can perfect matching with your smartphones, tablets, laptops and PCs. You can capture image and video. ln addition, the camera head equips 6pcs of High-Intensity LEDs(with brightness control button)to illuminate the exploring areas specifically. The 0.5m/lm camera tube is IP67 waterproof standard with 5.5/7.0/8.0mm diameter camera head, so that you can explore area gaps and holes.
Specification:

Network Standard: IEEE 802.11 b/g/n
Antenna: Built-in IPEX antenna
Operating Frequency: 2.4GHZ
Data Rate: 802.11 a/b/g/n:up to 150Mbps
Camera Diameter: 8.5mm
Shaft Diameter: 7.0mm
Image Sensor: 2.0Megapixel CMOS
Video Resolution: 800x600, 1024x768, 1280x720
Viewing angle: 60
Depth of Field: 60mm-100mm
Camera Light Source: 6 adjustable high-intensity LEDs
IP Code: IP67
LED Flash light: 1W CREE LED
Operating Temperature: 0~45C
Power Source: 3.7V rechargeable Li-ion polymer battery
Max battery life: 2-3 hours
Certifications: CE RoHs
Features:

Quick snap
Quick video recording
Quick review
Av out
Video/picture viewer
16 Language selected
Widely used in cars and many industries
Capable to investigate dark and hard-to-reach areas.
Inspection of hard-to-reach or hard-to-see area or equipment.
Application:

Steel equipment maintenance, pipe products used for the quality inspection.
Industrial machinery inspection, boiler, heat exchanger; Mechanical equipment and manufacturing equipment.
Electrical and electronic industrial machinery, parts inspection, and the research and development areas.
Auto check engine, hydraulic parts, nozzle parts quality inspection and assembly testing.
Railway, ship inspection turbine, heater, diesel engine, the flame boiler, pipe inspection.
Petrochemical technology configuration pipes, pressure vessels, boilers, heat exchangers and other equipment.
Contact Us
301, Pacific Plaza, VIP Road, Kareli Baugh, Vadodara, Gujarat, 390018, India