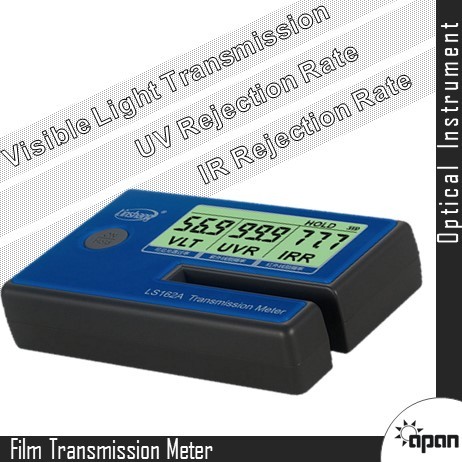 Product Description
As an Authorized dealer we are engaged in providing the broad assortment of wide gamut of optical instruments.
Transmission Meter is special for film, window tint, filmed glass and side windshield test, it's a small size, portable product for transmission value measurement. It's able to simultaneously measure and display Visible transmission values and UV, Infrared rejection values.
Directly display the rejection rate of UV and infrared. In this way, when the customers are testing the performance of a solar film or a filmed glass, they can directly know the UV and infrared rejection rate of their measured sample, and don't need to calculate how much 100% minus thetransmission is.
The testing slot is up to 8mm, can test filmed glass directly .

Compact, portable, battery powered, ultra-low power consumption.

UV rejection meter, IR rejection meter,Visible light Transmittance Meter, Three functions in ONE device.

Simple operation, rapid measurement, putting the testing sample in the "OPENING", UV, VL and IR transmission values of the sample will simultaneously display immediately.

Suitable for measure film, filmed glass, window tint, side windshield etc. Test for performance demonstrate, production, QA, inspection and so on many occasions
Specification:
VL Peak wavelength: 550nm

UV Peak wavelength: 365nm

IR Peak wavelength: 1400nm

Size: 120mm *75mm *25mm(L*W*H)

Thickness of testing sample: < 8mm

Resolution: 0.1%

Accuracy: ±2%(Colorless and transparent material)

Weigh: 165g (include batteries)

Battery: 4*AAA alkaline battery
Contact Us
301, Pacific Plaza, VIP Road, Kareli Baugh, Vadodara, Gujarat, 390018, India